Maleficent casts spell on UK film chart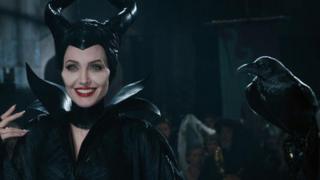 Angelina Jolie's film Maleficent has topped the UK and Ireland box office on its debut weekend, knocking X Men: Days of Future Past into second spot.
Telling the story of Sleeping Beauty from the perspective of the villain, it took £6.6m in the UK - and also topped the US box office this weekend.
Tom Cruise's latest outing, The Edge of Tomorrow, could only debut in third place with £1.9m.
Seth MacFarlane's A Million Ways To Die In The West came fourth, on £1.2m.
The film fared poorly compared to MacFarlane's 2012 comedy Ted, which took £9.3 million in its first weekend of release.
Godzilla rounded out the top five in its third week on the chart with £982,401.
It was announced last week that British director Gareth Edwards, who made Godzilla, is set to direct a Star Wars spin-off film.
The unnamed film will be in addition to the forthcoming Star Wars trilogy, the first instalment of which is being directed by JJ Abrams.
UK and Ireland box office
Maleficent - £6.5m
X-Men: Days of Future Past - £3.5m
Edge of Tomorrow - £1.8m
A Million Ways to Die in the West - £1.2m
Godzilla - £982,401
Source: Rentrak