Brad Pitt speaks out on 'nutter' red carpet prankster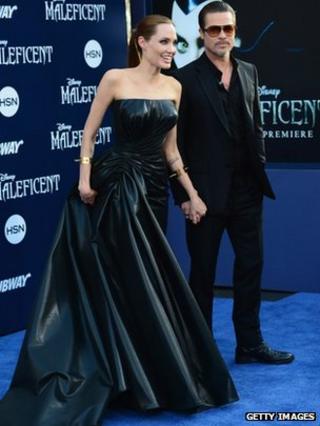 Actor Brad Pitt has spoken out about the red carpet attack that left Ukrainian TV presenter Vitalii Sediuk behind bars.
The notorious prankster accosted Pitt at the world premiere of Maleficent in Hollywood last week.
"I looked down and the nutter was trying to bury his face in my crotch," Pitt told People magazine.
He said Sediuk would make life difficult for genuine fans hoping to get autographs from the stars.
Sediuk, 25, who is known for pulling pranks on celebrities, spent two days in jail after being pulled off the red carpet by security guards.
He pleaded no contest to battery and unlawful activity, and was sentenced to three years of probation and a year's worth of psychiatric counselling.
The TV presenter was also ordered to stay 500 yards (457m) away from all celebrity events, including awards shows and premieres. He must also stay away from Pitt and his fiancee Angelina Jolie, who stars in Maleficent.
In his statement about the incident, Pitt said: "I was at the end of the line signing autographs, when out the corner of my eye I saw someone stage-diving over the barrier at me.
"I took a step back; this guy had latched onto my lapels. I looked down and the nutter was trying to bury his face in my crotch, so I cracked him twice in the back of the head - not too hard - but enough to get his attention, because he did let go.
"I think he was then just grabbing for a hand hold because the guys were on him, and he reached up and caught my glasses."
"I don't mind an exhibitionist, but if this guy keeps it up he's going to spoil it for the fans who have waited up all night for an autograph or a selfie, because it will make people more wary to approach a crowd."
Referencing one of Sediuk's earlier red carpet attacks, where he put his head underneath actress America Ferrera's dress, Pitt added: "If he tries to look up a woman's dress again, he's going to get stomped".
Pitt and Jolie are amongst Hollywood's biggest stars, with Pitt recently sharing the 2014 best film Oscar with his fellow producers on 12 Years A Slave.
The star has also been Oscar-nominated for his acting on three occasions - for Moneyball, The Curious Case of Benjamin Button and Twelve Monkeys.
Jolie's star turn in Disney film Maleficent has proved to be a major box office draw this weekend, taking $70 million (£41.7 million) in the US and £6.6 million in the UK, topping the charts in both countries.
The actress previously won an Oscar for Girl, Interrupted in 2000 and also received an honorary Oscar last year for her humanitarian work.
Sediuk, who is due back in court for a hearing on 8 July, was also sentenced to 20 days of community service during his 36-month probation and was ordered to attend a year's psychological counselling.
Speaking to the Associated Press after his court appearance, he said: "I'm a normal guy. I'm not crazy."
He denied punching Pitt in the face, calling the press reports "absolutely false", and said stars should be more wary on the red carpet.
"Don't get offended at me. Don't get mad at me. And just to be thankful that I show it's easy to get access to you and maybe you have to tighten security.
"Obviously, I don't want to say, 'Don't talk to fans'. But (be) cautious."