Jesus Christ Superstar US tour axed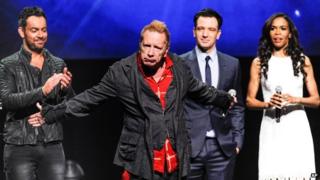 A US touring production of Jesus Christ Superstar starring former Sex Pistols frontman John Lydon has been cancelled 10 days before it was due to start.
Lydon was to play King Herod in the Andrew Lloyd Webber musical, along with Destiny's Child singer Michelle Williams as Mary Magdalene.
The 54-city tour had been scheduled to begin in New Orleans on 9 June and include stops in New York and Boston.
Producers have yet to comment on the reason for the show's cancellation.
A message posted on the production's website also offered no explanation, but said all tickets would be refunded.
Producer Michael Cohl, who was also a producer on the ill-fated Spider-Man: Turn Off the Dark Broadway musical, declined to talk in detail about financing when the tour was unveiled in April, but said the new show's total costs were in the "eight figures".
He added it needed to pull in "several hundred thousand dollars" each night to keep it on the road.
The show was also to star Incubus' Brandon Boyd as Judas, N'Sync's JC Chasez as Pontius Pilate and Ben Forster, who won ITV's search for the lead role and starred in the UK touring production in 2012.
Writing on Twitter after the announcement, Forster said: "My heart is broken. This wonderful show and opportunity is over. I'm so sorry I am devastated."
Boyd added: "I got fired from #JesusChristSuperstar today....but so did the rest of the cast so we're all sad together."