Classical trio in bid to put audience to sleep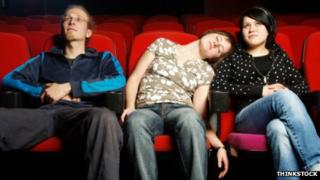 Most performers prefer their audience to stay awake but a classical trio is hoping to have the opposite effect at a show "inspired by the world of sleep".
Finnish violinist Pekka Kuusisto, singer Joanna Wallfisch and sound artist Teemu Korpipaa will even supply rugs and cushions to encourage slumber.
Sleep is premiering at Salisbury International Arts Festival on Friday.
Organisers said the success of the concert will be judged by how many people have fallen asleep by the end.
"The thought of nodding off in a concert is something that I think most of us fear, but in this case the more people who fall asleep, the more successful the performance will have been," said festival director Toby Smith.
"Pekka is an incredible musician, one who is always looking for different ways of looking at things, and this audience will be given a unique artistic experience that they'll never forget, until they hopefully fall asleep."
The free but ticketed event will also feature poetry by Edgar Allan Poe, Shakespeare and music influenced by the Beach Boys as well as jazz standards.
The audience is encouraged to "leave reality at the door" for the third in a series of events devised by violinist Kuusisto for the festival, this time in collaboration with New York-based singer-songwriter Wallfisch.
"A lot of people are looking for something in music that is not harmonic or sonata form," said Kuusisto.
"The kind of music between regular music and wallpaper, or lighting, or perfume. There will be a lot that will register as music but the concert will visit some things that are not instantly identifiable as music."