Phil Collins performs at school concert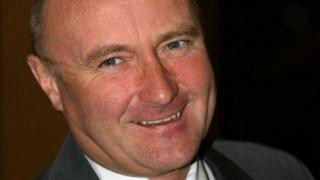 Phil Collins has made his stage appearance since his retirement - by performing at his sons' school music concert.
The singer and drummer sang two songs with the middle school band at the Miami Country Day School, according to the Miami Herald.
He praised the school's musicians but admitted he was nervous about singing.
Collins announced his retirement in 2011, saying he wanted to spend more time with his young children.
At the time he said: "I am stopping so I can be a full time father to my two young sons on a daily basis."
His former wife, Orianne Collins Mejjati, told the Miami Herald that Collins had agreed to the school performance after being asked by their children.
He performed renditions of In the Air Tonight and Land of Confusion.
A former member of rock band Genesis, Collins went on to achieve huge success as a solo performer, including hit albums as No Jacket Required and ...But Seriously.
The winner of seven Grammy awards, he also won an Academy award for his soundtrack for the Disney animated film Tarzan.
Collins has an older daughter, Lily Collins, an actress who starred in the films Mirror Mirror and The Mortal Instruments: City of Bones.