Coldplay top Billboard album chart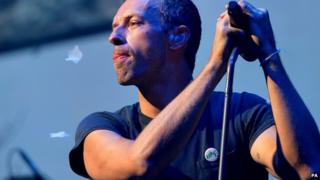 Coldplay's latest record Ghost Stories has topped the Billboard 200 album chart in its first week of release.
The band's sixth studio album sold 383,000 copies in the US - the highest weekly sales for an artist so far this year - making it their fourth consecutive number one.
Billboard said downloads accounted for 64% of total sales.
Their Stateside success comes after Ghost Stories topped the UK album chart on Sunday.
However, the record did not perform as well in the US in its first week as previous albums.
2011's Mylo Xyloto sold 447,000 copies, while 2008's Viva La Vida Or Death and All His Friends debuted with 721,000 and 2005's X&Y shifted 737,000.
Country singer Brantley Gilbert's Just As I Am entered the chart at number two, while Michael Jackson's posthumous album Xscape fell one place to three.
The soundtrack to Disney film Frozen remained at four, with The Black Keys' Turn Blue at five.
New entries included American Idol winner Phillip Phillips' second album Behind the Light at number seven, and the soundtrack for the forthcoming film The Fault in Our Stars at eight.
US Billboard 200 album chart
Ghost Stories - Coldplay (383,000 copies)
Just As I Am - Brantley Gilbert (211,000 copies)
XScape - Michael Jackson (67,000 copies)
Frozen - The Official Soundtrack (65,000 copies)
The Black Keys - Turn Blue (54,000 copies)
Source: Billboard