Seth MacFarlane: From Family Guy to leading man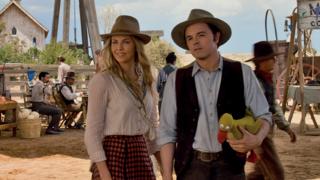 Seth MacFarlane is best known for creating long-running animations Family Guy and American Dad, as well as voicing many of the show's characters. He spoke to the BBC about his latest film, offending people and how the American press is losing its sense of humour.
"I like being involved in all aspects of a movie or TV show - if I'm involved in a project I'm either involved 150% or I've passed it off to someone else 150%," says Seth MacFarlane.
He's not lying - not only did he co-write, produce and direct his latest film A Million Ways to Die in the West, he also co-wrote a song for the comedy western and stars in it too.
"It's hard for me to stay only halfway involved in something, so I do like to keep a hand in all facets," he says.
Learn to juggle
Not that the 40-year-old is power hungry - with fingers in so many different pies he's learned to juggle all the jobs, as well as trust his team to carry out his vision.
"It's a combination of being invested in everything but also letting people do what they do because it takes a lot of the load off."
Set in the Old West but with a contemporary twist, the film stars MacFarlane as cowardly sheep farmer Albert Stark who is fed up with life on the frontier, while desperately trying to avoid the numerous hazards claiming the lives of those around him.
After challenging a love rival to a gun duel, he is helped by town newcomer Anna Barnes (Oscar winner Charlize Theron) to practise his shooting skills. Little does he know, she is the wife of a notorious outlaw (Liam Neeson).
It's the comic's first turn as a live-action leading man, having spent most of his time behind the camera as the familiar voices of Family Guy characters including Peter Griffin and Brian the dog, as well as badly behaved bear Ted from his hit 2012 film.
With such a recognisable voice, MacFarlane admits some people may have trouble seeing past his famous characters and viewing him instead as an actor.
"That was a concern - it's always in the back of my head," he says. "Sometimes there is a disconnect when I see voice actors in person who did characters I've grown up with.
"But since the Comedy Central roasts I've done and [hosting] the Oscars, I hope some of that has dissipated and people can separate me from the characters on Family Guy."
'Freak of Nature'
Following on from the success of Ted - which is currently the highest-grossing R-rated original comedy ever - A Million Ways to Die in the West has a lot to live up to.
"Ted was a freak of nature. It would be unrealistic to expect this movie to perform like Ted did," says MacFarlane, who insists he isn't feeling the pressure.
"I'm happy with how this turned out. I don't generally operate in terms of pressuring myself with box office returns - I do projects that interest me and if I've done my job people will respond and go see the movie."
Undoubtedly, box office receipts will be linked to whether audiences "get" the writer's brand of dark comedy and slapstick humour which has made Family Guy so successful, and whether it can translate to the big screen.
MacFarlane is well known for the somewhat controversial material he includes in his animated series - a medium where he can arguably get away with more than in a live-action comedy.
But with gags that touch on sexism, racism and even child abuse in the film, the writer believes the problem is not with his jokes, it's everyone else's sense of humour.
"I think people are losing the ability to process context - not so much here [in the UK], but certainly in the States," he says.
"Ironically the American entertainment press is losing it faster than the average American.
"All in the Family was the greatest American sitcom, in my opinion, ever - it was on the early '70s and it was a huge hit.
"The central character [Archie Bunker] was a total bigot, a total racist and his son-in-law who lived with him was a very progressive liberal who hated his racism.
"The words that would come out of Archie's mouth - it was racist, it was sexist, it was homophobic - but that was his character and you were laughing at him for being ignorant.
"Nowadays if that show was on, I think American people would get it, but the American press would not able to look past the words Archie is using. There would be no appreciation of context and that is a problem.
"There is some stuff that is indefensible, but in order to separate you can't just say everything is offensive - which is what the American entertainment press has become. It's just become a lot of people screaming about things they are offended by."
So does anything offend the comic?
"There are things that offend me, like people committing horrific crimes or people harming animals - but I've never seen anything in a movie, TV show or fictitious production has ever really offended me.
"I reserve that for real things."
A Million Ways to Die in the West is on general release in the UK.