Seth Rogen in row with critic over shooting comments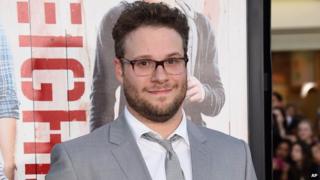 Actor Seth Rogen has become involved in a row with a US film critic who linked his hit comedy Bad Neighbours and the films of Judd Apatow to the killings by 22-year-old Elliot Rodger.
In her Washington Post column Ann Hornaday implied that "outsized frat-boy fantasies" had left Rodger feeling "unjustly shut out of college life".
Rogen hit back on Twitter, calling her words "insulting and misinformed".
Hornaday has now posted a video response to her original column.
"I by no means meant to cast blame on those movies or Judd Apatow's work for this heinous action, obviously not," she said in the film.
"The whole reason that I weighed in on this issue was that [Rodger] had created this video on YouTube that seemed to be such a product of the entertainment industry that he did grow up in."
Rodger - who killed six people in Santa Barbara, California and injured 13 more, before turning the gun on himself - was the son of filmmaker Peter Rodger, assistant director on The Hunger Games.
He had made a YouTube video shortly before the killings, claiming he was being driven to violence after being rejected by women and was going to take his revenge against humanity.
'Idiotic thoughts'
Hornaday angered Rogen and Apatow when her original column posed questions such as: "How many students watch outsized frat-boy fantasies like Bad Neighbours and feel, as Rodger did, unjustly shut out of college life that should be full of 'sex and fun and pleasure'?"
She continued: "How many men, raised on a steady diet of Judd Apatow comedies in which the shlubby arrested adolescent always gets the girl, find that those happy endings constantly elude them and conclude, 'It's not fair'?"
Both Rogen and Apatow responded on Twitter, with Rogen writing, "I find your article horribly insulting and misinformed," while Apatow claimed Hornaday was using "tragedy to promote herself with idiotic thoughts."
Rogen also adressed Hornaday: "How dare you imply that me getting girls in movies caused a lunatic to go on a rampage."
His comedy Bad Neighbours, which co-stars Zac Efron as the leader of a frat house which moves next door to Rogen's family home, topped both the UK and US box office when it was released in cinemas earlier this month.
Writer, director and producer Apatow's films include This is 40, Knocked Up and Pineapple Express.
'Sense of entitlement'
Hornaday attempted to explain the thinking behind her original column in her video and accompanying blog post.
She said Rodgers "self-pitying complaints" in his YouTube video seemed to have a lot to do with "the sense of entitlement that he had to a life that he had seen reflected around him."
"I wanted to sort of tease out how the movies we watch that are primarily created by men and primarily pivot around fantasies of male wish-fulfilment and vigilante justice," said Hornaday.
She continued: "How that might inform not just someone suffering under a terrible mental illness but the culture at large in terms of conditioning our own expectations of what we think life is and what we feel like we deserve from it.
"As important as it is to understand Rodger's actions within the context of the mental illness he clearly suffered, it's just as clear that his delusions were inflated, if not created, by the entertainment industry he grew up in," she said.
The Washington Post revealed that Rogen had declined a request from the paper to film his own video response for its website.