Beastie Boys testify against Monster over song copyright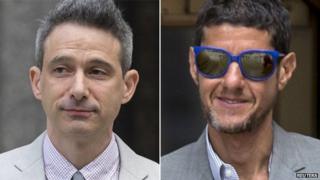 The Beastie Boys have appeared in a New York court to testify against US energy drink company Monster in a copyright infringement case.
The hip-hop group are suing the company for more than $2m (£1.2m) for the unauthorised use of their music in a 2012 promotional video.
Adam "Ad-Rock" Horovitz said the rappers would never license songs to endorse commercial products.
Monster admitted it had infringed copyright, but said it was a mistake.
The group's lawyer Paul Garrity said that, as the group had chosen years ago not to license their music, Monster "stole the Beastie Boys' right to say no".
Their standpoint was also made clear after member Adam Yauch's death in May 2012, when he left instructions in his will to prevent the use of his music or image in any advertising.
It read: "Notwithstanding anything to the contrary, in no event may my image or name or any music or any artistic property created by me be used for advertising purposes."
'Illogical' sum
Monster's lawyer, Reid Kahn, told the jury the company "technically did violate the copyright", but only because an employee thought permission to use the music had been granted.
"In this case, it turns out to have been a mistake," he said.
However, he said awarding the band $2m (£1.2m) was "illogical" and Monster should pay $125,000 (£74,000) at most to cover the five weeks the promotional video was online.
It was produced for an annual snowboarding competition in Canada - Ruckus in the Rockies - which Monster organises and sponsors.
After the event, which began a day after Yauch's death, the video was posted on YouTube, which included a remix of the songs Sabotage, So What'cha Want and Make Some Noise.
Mr Kahn said the video had been watched fewer than 14,000 views.
Horovitz is expected to return to the stand on Wednesday.