Kathleen Turner 'excellent' in Bakersfield Mist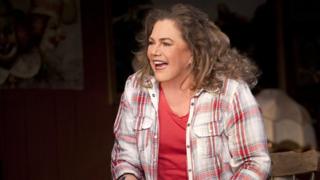 Critics have praised Kathleen Turner's return to the West End stage in Bakersfield Mist.
The Oscar-nominated actress plays Maude, an out-of-work bartender who is convinced that a painting she picked up in a thrift shop is actually a valuable art work by Jackson Pollock.
Turner was last seen on the London stage in Who's Afraid of Virginia Woolf? in 2006.
She stars opposite Ian McDiarmid who plays New York art expert, Lionel Percy, who visits Maude in her trailer park home to authenticate the painting.
Inspired by true events, Bakersfield Mist - by Stephen Sachs - opened on Wednesday night at the Duchess Theatre.
Here's what reviewers had to say.
The Guardian - Michael Billington - 3 stars
Even if I found much of the play hard to believe, I enjoyed watching the two performers under Polly Teale's direction. Kathleen Turner, last seen on the London stage as Martha in Who's Afraid of Virginia Woolf, is excellent as Maude.
She suggests a woman desperately seeking validation for her life as much as for the painting, and whose breezy extroversion conceals a caustic shrewdness and wit. Ian McDiarmid, as the less sympathetic Lionel, also conveys the natural curiosity of the trained fake-buster. The moment he sizes up the painting, stalking it as if it were a recalcitrant animal, is a joy to watch...
Much as I admired the acting, Sachs's play, especially when compared with Bennett's multi-layered exploration of art and identity, strikes me as a load of Pollocks.
Read the full review
The Telegraph - Charles Spencer - 3 stars
McDiarmid brings a delicious sense of irony and preening self-regard to the role of the man from the art foundation, while suggesting a growing respect for the woman who has brought him to her home. And Turner gives a wonderfully wired and compelling performance as Maude, her voice a raucous rasp of Jack Daniel's and Camel cigarettes, but with an underlying sense of pain and vulnerability.
In the final analysis Bakersfield Mist, neatly directed by Polly Teale and cleverly designed by Tom Piper, is too slight, and a touch too pleased with itself, to be fully satisfying. But, unlike the dubious picture at the play's heart, the performances are definitely the genuine article.
Read the full review
The Times - Dominic Maxwell - 4 stars
Although Turner handles Sachs's comic dialogue with zest, this American screen star makes a big character feel utterly true as she stalks around in jeans and plaid shirt, glass of bourbon in hand, uttering throaty put-downs and letting us in on her sadness without turning sentimental.
The title is a spin on a Pollock painting, Lavender Mist, that has a bearing on a plot that takes on a thrillerish knottiness as goes along.
Yes, at this short length it's impressionistic, finally offering more questions than answers about taste, expertise and artistry. No matter: this pithy, beautifully performed play put a smile on my face and kept my brain buzzing for a good while afterwards.
Read the full review (paywall)
Evening Standard - Henry Hitchings - 2 stars
Eight years on from her last West End appearance, Kathleen Turner brings all her charismatic authority to this two-hander by Stephen Sachs. But her passionate performance and an enjoyably outrageous one from Ian McDiarmid can't redeem a play that turns a true story into something clunkingly implausible...
Turner's trademark huskiness here becomes something more like a rasping baritone. Maude is scarred by decades of boozy self-neglect, as well as family tragedy and failure, and Turner captures her uncompromising toughness. McDiarmid does a fine job of ensuring Lionel is a memorably monstrous snob, with a hint of vulnerability.
Polly Teale's production makes the clash of personalities and cultures feel vivid, but Sachs's concern with authenticity (both human and artistic) means he is trying to mine the same territory as Yasmina Reza's wildly successful Art, without really digging that far into either aesthetic questions or psychological ones.
For much of the play's 75 minutes the two characters merely seem to be restating their positions with increasing vigour. There are flashes of humour, but despite the strong performances Bakersfield Mist feels very slight.
Read the full review
The Arts Desk - Ismene Brown - 2 stars
To older generations Turner will always be the scorching, duplicitous redhead in Body Heat and Prizzi's Honor, but she shows herself now without pretence at nearly 60, happily slutting about the stage in shapeless jeans and lumberjack shirt, playing whiskey-swilling California trailer trash Maude. And she is just fine, with that Lamborghini-growl of a voice allied to still spectacular hair and an indomitable, likeable stage presence - she does (sigh) almost make you believe she'd have collected all those fridge magnets. Alas, the usually subtle McDiarmid has been panicked by some shaky direction into providing a caricature of himself as a Denis Thatcher-esque Lord Snooty.
Read the full review
Bakersfield Mist is at the Duchess Theatre, London, until 30 August