Donmar set for all-female Henry IV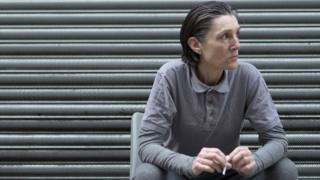 An all-female version of Henry IV has been announced as part of the autumn season at London's Donmar Warehouse theatre.
The play is the second in a proposed trilogy of Shakespearian productions, directed by Phyllida Lloyd, that began with Julius Caesar in 2012.
It will star Harriet Walter in the lead role, with Ashley McGuire as Falstaff.
Other plays in the season include Kevin Elyot's My Night With Reg and jazz musical City of Angels.
Announcing the season on Tuesday, artistic director Josie Rourke said it was hoped the Shakespeare plays would "open up our national playwright to those who have been denied him through gender, heritage or class".
"There's a mission behind this work, which is a really great question about who owns Shakespeare," she said.
The idea for the trilogy emerged during education workshops with school children for Julius Caesar.
"Yes, it's about gender, it's about diversity, it's also about class, and it's also about... how we can extend the project of these productions from beyond our stage into the lives of young people."
The all-female version of Julius Caesar, set in a women's prison, had Frances Barber as Caesar and Walter as Brutus.
The production had marked Lloyd's return to stage directing after the film The Iron Lady, which starred Meryl Streep as Margaret Thatcher.
The third play in the Shakespeare trilogy is yet to be announced. Like, the first two plays, it will have a prison setting.
Robert Hastie will direct the 20th anniversary production of My Night With Reg, a comedy set in London's gay community in the summer of 1985 against the back drop of the Aids crisis.
Rourke said the play felt timely. "It feels like a good moment to be considering a touching and funny portrait portrait of the lives of gay men at that point in their history - and it seems to refract rather brilliantly into the present."
Rourke will direct the first major revival of Cy Coleman's musical City of Angels as the Donmar's 2014 Christmas production.
The production will feature Rosalie Craig - star of the National Theatre's musical The Light Princess - along with Samantha Barks, who made her film debut as Eponine in Les Miserables, and Hadley Fraser.
Rourke said City of Angels, a celebration of film noir and Hollywood, had some "unbelievably strong parts" for women.
"The wit and the sass and the sex of this show is tremendous... every line is an absolute zinger," she said.
"People haven't written this wittily for women really since that era. It's a fascinating thing to see that on the page and celebrated."