Quirke draws complaints over sound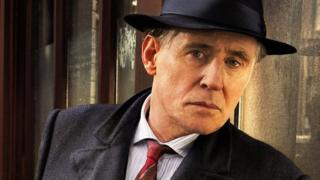 The BBC has confirmed it has received complaints from viewers over the sound quality of BBC One crime drama Quirke.
The corporation said Sunday's episode, which was watched by an average 4.2 million people, drew 243 complaints.
It comes a month after more than 2,000 viewers complained to the BBC over "mumbling actors" on Jamaica Inn.
Based on the novels by Booker Prize-winning author John Banville, Quirke stars Gabriel Byrne in the title role as a Dublin pathologist.
The noir series, set in the 1950s, also stars Michael Gambon, Geraldine Somerville and Colin Morgan.
TV presenter Richard Madeley was among those who took to Twitter to comment on Quirke's sound quality.
"Was really looking forward to Quirke... but despite winding volume up to 100% still can't hear at least a third of dialogue!" Madeley said.
The drama, which was filmed in 2012, was previously broadcast on RTE Ireland in February. No complaints were reported at the time.
A spokeswoman for the BBC said: "A wide range of factors can influence audibility and we will continue to work with the industry on this important subject."