Herb Jeffries: 'Bronze Buckeroo' actor and singer dies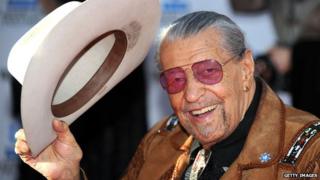 Herb Jeffries, the jazz singer and actor who performed in a series of all-black Western movies in the 1930s, has died at the age of 100.
Known to cinema audiences as the Bronze Buckaroo, he starred in four cowboy films aimed at black audiences from 1937 to 1939.
In 1940, Jeffries scored a big hit with jazz legend Duke Ellington as the vocalist on Flamingo.
He died of heart failure on Sunday, his biographer Raymond Strait said.
Film director Robert Townsend tweeted: "RIP Herb Jeffries, 1st Black Cowboy on Silver screen, my prayers with his family."
Born Umberto Valentino in Detroit in 1913, he said of his mixed parentage: "My mother was Irish, my father was Sicilian and one of my great-grandparents was Ethiopian.
"So I'm an Italian-looking mongrel with a percentage of Ethiopian blood, which enabled me to get work with black orchestras."
His other songs with Ellington included There Shall Be No Night and You, You Darlin'.
As a Western star, Jeffries appeared as Bob Blake alongside his horse Stardusk and the vocal group the Four Tones.
At a time when mixed race performers tried to lighten their skin, Jeffries wore make-up to darken his.
He said in one interview: "Little children of dark skin - not just negroes, but Puerto Ricans, Mexicans, everybody of colour - had no heroes in the movies. I was so glad to give them something to identify with."
Jeffries continued performing as a singer into his 90s. His last album was The Duke and I, released in 2000.
He was awarded a star on the Hollywood Walk of Fame in 2004.
US chat show host and VH1 presenter Bobby Rivers said on Twitter: "Great jazz singer, handsome actor."
Raymond Strait said Jeffries had been in declining health for some time and died at West Hills Hospital and Medical Center in Los Angeles.
Mr Strait said: "He believed in one world and one people and was one of the most generous people I've ever met. He was always funding something or doing something for kids."
Married five times, including to burlesque star Tempest Storm, Jeffries is survived his fifth wife Savannah, three daughters and two sons.