BBC Savile review further delayed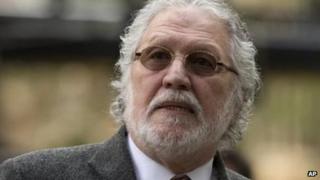 The BBC's review on what it knew about Jimmy Savile has been delayed until after the trial of Dave Lee Travis.
The report was delayed in January pending the outcome of criminal proceedings against former BBC presenter Stuart Hall on the grounds the review might prejudice the trial.
On Friday, Hall was sentenced to an extra two years and six months in jail.
Mr Travis, who was cleared of 12 counts of indecent assault in February, faces a trial on two outstanding charges.
The DJ's forthcoming trial is expected to take place in September.
Whilst the charges brought against Mr Travis do not fall directly within the review's terms of reference they do, in part, relate to his work for the BBC.
Dame Janet Smith - who is leading the BBC's independent inquiry - said "the possibility does exist that publication of the report may affect the fairness of the trial of Dave Lee Travis".
A statement said: "For that reason and in the interests of ensuring that the independence and fairness of the criminal process is maintained, Dame Janet has decided that her report should not be delivered until after the conclusion of the trial of Dave Lee Travis.
"The BBC is aware of and agrees with this decision."
Representatives of the review attended the recent trial of Stuart Hall in Preston Crown Court and the proceedings will be considered as part of the process of finalising the report.
Dame Janet's inquiry was launched after allegations of decades of abuse committed by former BBC DJ Savile emerged following his death in 2011. The review is into the culture and practices of the corporation during the Savile years.
As part of the report, they have been in contact with 720 people and interviewed 140 witnesses.
The NSPCC says it has now been contacted by 326 people in connection with abuse by Savile.