ITV looks to dramatic future after Bafta success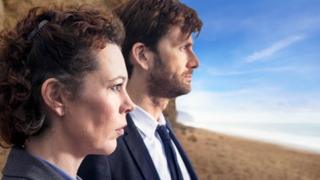 Broadchurch's triple Bafta win was an undoubted cause for celebration for the show's stars and production team but for broadcaster ITV it was nothing short of major coup, having seen the coveted drama award elude them for more than a decade.
Given the critical acclaim of the crime thriller starring David Tennant and Olivia Colman, which netted an average nine million viewers per episode, the awards glory came as little surprise.
But for a broadcaster dogged until relatively recently by headlines about financial crises, stale schedules and dwindling audiences, it raises questions as to how it came about and whether it's a sign of things to come for ITV drama.
Broadchurch, written by Chris Chibnall, perhaps offers some clues. Peter Fincham, director of television at ITV, says its special ingredients were a magical collaborative effort.
"Broadchurch had so many fantastic elements but at its heart was a brilliant script set against a really evocative backdrop that was woven into the storytelling and a terrific ensemble cast."
TV writer and historian William Gallagher endorses his view.
"You can't manufacture success in drama. But what will work well is if you give the one original voice to the writer. Broadchurch is really distinctive because it's one person's voice," he says.
"These writers don't just hand in scripts and walk away. They're involved in the casting, making and producing and that voice continues. Otherwise, things get diluted, producing very similar dramas."
However, collaborative creative talent doesn't just materialise. Instead, it is brought together through a confidence in the broadcaster.
Faith in ITV has been bolstered by the huge success of costume drama Downton Abbey, both in the UK and abroad.
Downton has not to date won the best drama Bafta but since it began in 2010, each new series has been heralded as a national event.
Much the same can be said of its reception in the US and the series has become a big money-spinner for ITV.
"ITV are on a bit of a roll at the moment," says David Butcher, TV editor for the Radio Times. "Partly that comes from the fact that success breeds success. So if you have a big hit like Downton and now Broadchurch, that creates confidence all round.
"That means Peter Fincham has confidence in his director of drama Steve November and vice versa and the producers and writers and then writers are trusted to tell a story well and there is less interference."
A period of more than three years between the headline-grabbing launch of Downton to the national game of whodunit provided by Broadchurch may seem like a long time but these dramas don't happen overnight, says Butcher.
"Drama departments are like supertankers, they take a long time to turn round. Once you have them going in the right direction they gain a lot of momentum."
Historian William Gallagher adds: "Drama takes so long to get from idea to the screen, so you're spending a lot of money but it's not earning anything until several years into the run."
But mixed into the ITV schedules, still populated by crowd-pleasers such as The X Factor, Britain's Got Talent and I'm a Celebrity, there has been a steady stream of new and critically praised one-off and serial dramas.
Though not all fanfare events, the likes of Vera, Scott and Bailey, Endeavour, Mr Selfridge, The Widower and Prey have all proved popular, each averaging audiences of between 6 million and 7 million.
Their success is a signal the seeds of quality drama at ITV have been growing with deliberate intention - and that the broadcaster is feeling bold enough to experiment with how it's presented.
"Drama is one of those genres that audiences love," says Peter Fincham. "It's one of the absolute core genres that viewers look to television for and it plays an incredibly important part in defining a channel to its audience, the commitment and the quality in our drama offering is really important in that respect.
"The range, impact and quality of ITV drama has continued to grow over the years and the challenge for us is to keep raising our game and our ambitions."
Fincham has been a key architect in ITV's push to boost its drama output. When he joined ITV in 2008, the broadcaster was suffering the effects of the financial crisis and loss of advertising.
Weighed down by debt, its drama, always costly to produce, had become tired and predictable and one of Fincham's most memorable moves was to axe long-running cop series The Bill.
The decision was considered controversial but showed Fincham was prepared to take risks - and trusted in the team around him to push forward with new ideas.
"Peter Fincham has undoubtedly been an influence but it's also his team. Laura Mackie, former director of drama, and those around her did a lot to get new dramas up and running and now Steve November is doing a very good job, along with the producers with a clear good understanding of what ITV wants from its drama," says Chris Curtis, editor of Broadcast magazine.
A key player in that team is chief executive Adam Crozier - holder of the purse strings - who, since joining in 2010, has turned ITV's debt into year-on-year profit through a series of money-making moves, including boosting ITV Studios and acquiring production companies.
As a result, more finance has become available for good drama, which in turn has attracted more advertising.
Shows like Britain's Got Talent look set to continue as they are great advertising vehicles - and remain very popular with viewers. But the emphasis right now at ITV is on drama, which can also be profitable in its ability to be repeated, build audience loyalty and be sold overseas.
A steady roll of new commissions are being announced, including David Threlfall in two-parter Code of a Killer. June sees the launch of ITV Encore, its dedicated drama channel. And there is a new series of Broadchurch on the way.
So should other broadcasters be running scared? David Butcher thinks not, citing the BBC's Happy Valley and Peaky Blinders as examples of BBC Drama being "in great shape at the moment".
ITV's success should be a cause for optimism for other broadcasters and audiences, says William Gallagher.
"We need good drama from everybody. But it does go in cycles," he says. "The buzz right now is around ITV and that's good. It means the BBC and others will try to keep up. There is still that rivalry which drives TV - and makes it better."