Tragic twist to author Anthony McGowan's stabbing story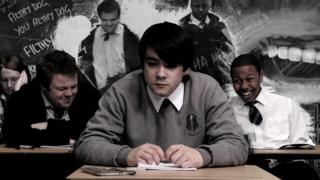 In the 1970s, author Anthony McGowan was taught by Ann Maguire, the teacher who was stabbed in Leeds last month. Her death came six years after he had published a novel about knife crime in his old school. It has now been turned into a film.
In 1976, the 11-year-old Anthony McGowan had a tough time settling into Corpus Christi school in Leeds.
He had moved from a rural primary school and was put into one of the bottom classes at Corpus Christi. McGowan's old school did not do the 11-plus exam and so the high school treated him as if he had failed it.
"Those bottom classes were full of difficult-to-educate kids, to say the least," he recalls. "It was a very, very tough environment.
"There was lots of bullying and a general feeling of oppression and danger in my first year."
Some teachers were as violent as his difficult classmates, he says.
"There were many brilliant teachers," he explains. "But some used threats and violence to keep us calm and controlled. A lot of hitting went on in those days."
The young Anthony was grateful, therefore, for his form tutor Ann Connor, who was then in her early 20s. She became Ann Maguire after getting married.
"She was full of life and vivacity and energy," he recalls now. "She was very important in my life because I had this difficult start. And she was a genuinely brilliant teacher.
"She had this fun, this energy, and would engage with you as well. She would look at you when you were speaking, listen to you and respond to what you were saying, which was slightly unusual.
"But also she was a deadly serious educator. She was really determined to pass on that baton of learning to other people.
"And she was a strict teacher. You didn't mess about in her lessons, because she was doing something important. She didn't want the disruptive kids to ruin it for the other kids, who she was trying to help."
Those schooldays made a deep impact on McGowan, now 49.
Teachers like Ann Maguire helped him survive the bullying and corporal punishment, and he is now an author of award-winning novels for teenagers and adults.
When he writes, he sets many of his stories at Corpus Christi. "I've never really left that school," he admits.
"In my imagination, I'm still there. All my books are set there. When I close my eyes at night, I'm back in that classroom."
So when his agent suggested he might write a novel about knife crime a decade ago, inspired by a spate of stabbings that were in the news at the time, it seemed natural that McGowan should use Corpus Christi for the setting.
The Knife That Killed Me was published in 2008 and told the story of a nice, normal 16-year-old boy called Paul who was sucked in to the orbit of the school's chief bully Roth.
Although Corpus Christi provides the backdrop to the story, the central knife crime plot was not based on experience.
"The school in the book is my memories of Corpus Christi in the '70s, when it was a much rougher school than it is now, but with the addition of knives," the writer explains.
"When I was there, although there was lots of bullying and fighting and violence, no-one ever brought a knife into school.
"That was one of the big cultural changes between my day and 10 years ago, when I was writing the book. Suddenly knives had become part of teenage culture."
Stabbing 'tragedy'
McGowan believes his old school has improved overall since he was there in the '70s. But it was visited by violence again on 28 April when Mrs Maguire, who taught Spanish and had been due to retire in September, was attacked in her classroom.
A 15-year-old boy has been charged with murder.
It was "a tragedy", McGowan says. "All the violence in the book and the film is one teenager on another."
The only link between the events in his book and in real life, he says, is that "as soon as a knife comes into school then anything can happen". He adds: "That's when you get that potential for death."
The Knife That Killed Me was shortlisted for the Booktrust Teenage Prize in 2008 and has now been turned into a £3m film starring Waterloo Road's Jack McMullen, which will be released later this summer.
It is the first independent British film to be shot entirely using green screen technology, meaning the actors are superimposed on striking graphic backdrops. The effects make it dark and unreal.
Co-director Kit Monkman pitches it as "Sin City meets Dogville". His fellow director Marcus Romer, who runs York's Pilot Theatre company, describes it as an arthouse film for teenagers.
They are now raising money on Kickstarter to give it an innovative premiere involving a free online stream and simultaneous pop-up screenings around the UK.
Romer says he bought the film rights to the book within weeks of its publication.
"Knife crime had been prevalent at the time and we don't shy away from material which has a strong current narrative and has something important to say, but without being patronising to young people," he says.
"This is not a, 'Hey kids don't do knife crime' book, it is a way for us to explore those issues."