Did Lily Allen really make £8,000 for her Christmas ad?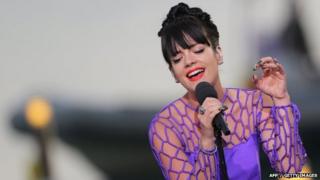 In March, Lily Allen gave a quote that refuses to die.
"Everyone assumes I made millions from the John Lewis ad," she told Beat Magazine, "but I probably made £8,000."
The only way to profit from the song, she added, was if "some rich kid in Russia asks me to sing it at their birthday party".
"That's how it works."
The interview has since been reported by Digital Spy, repeated in the Telegraph and quoted in a Times' article headlined: "How Lily lifted the lid on what the famous really do to make money."
Allen - whose pithy, no-nonsense interviews are a godsend to newspaper columnists - was undoubtedly exaggerating for comic effect. But she raises the question: What is a hit single worth in 2014?
"Not much, sadly," says Kathy Johnson, a senior tax manager at accountancy firm Saffery Champness.
"Because of downloads and the ability to get hold of a record without paying for it, it's quite difficult to make any money."
Johnson identifies four areas of income for her high-profile clients:
recording
publishing
branding and sponsorship
touring
So, how much could Allen have made from her tie-up with John Lewis?
Recording
In the UK, an artist typically gets between 8% and 25% of what you pay for a download or a CD.
Let's say Lily Allen gets the lowest rate. As 99.6% of all singles were sold as downloads last year, that means she received 7.92p every time someone bought Somewhere Only We Know.
According to the BPI, the single was awarded a gold disc in January 2014 - representing 400,000 sales, or £31,680 for Lily Allen.
The song was also included on Now 86, which shifted more than 1.1 million copies to become the UK's best-selling album of 2013.
Allen will also have made money here - but, with 44 songs on the compilation, her share of the proceeds will have been much lower.
Publishing
Every time a song gets played in public, the copyright holders get a fee - and that fee can be pretty lucrative.
One play of Somewhere Only We Know on BBC Radio 2 generates £76.20 in royalties. And, according to Radio 2's head of music, a song on the station's playlist gets between "five and 20 plays a week".
But all that money goes to Tim Rice-Oxley, Tom Chaplin, Richard Hughes - better known as Keane - who penned the song's music and lyrics in 2004 (their publishing company, Universal Music, also takes a cut).
Allen will have received a separate, but lower, performer's royalty via a company called PPL, which distributed £147m to its members in 2012.
"PPL revenues generated by plays on radio vary widely depending on the station," spokesman Jonathan Morrish told the BBC.
"For example a play on Radio 1 will typically earn around £40. This money is then split between the record company and the performers - both featured and session musicians.
"So what a singer, or any performer, earns even from one play broadcast on Radio 1 varies from recording to recording, depending on how many [musicians] there are on the track."
Allen's record label will also have earned a micro-payment every time Somewhere Only We Know was streamed online.
On Spotify, the average fee is £0.0035 per play. On YouTube, the label gets an extra $2 (£1.18) every 1,000 views if an advert screens before the video.
"The record label then has its own deal with the artists, and some of those deals are unfair," says Tahir Basheer, a partner at leading music law firm Sheridans.
"Some independent labels will say, 'Any income we get, we'll split half-half'. Some of the bigger labels will say, 'It's a royalty stream, so we'll pay you a percentage'.
But, he adds: "Artists can make money and do make money from digital music platforms."
"You've passed the tipping point now. All those micro-transactions adding up become a viable income stream."
Branding and sponsorship
John Lewis spent £6m on its Christmas campaign, but it is unclear how much of that went towards securing Lily Allen's services.
Contacted by the BBC, the retailer said: "While we don't disclose specific details of our commercial agreements, we can confirm that Lily Allen received a fee for her performance which appeared on our Christmas 2013 TV advertisement."
"We do a lot of these types of deals," says Mr Basheer. "Typically, the sort of questions one should be asking are: What is the marketing budget around this campaign? How long will the campaign be? Are there any other areas of support John Lewis could offer, such as cross-promotion or tour sponsorship?"
"The people negotiating on behalf of the artist should be asking these questions, because then they can assess and negotiate the correct value of the music."
He says Allen's payment may have been reduced because she was returning from a four-year hiatus and did not appear on-screen during the advertisement.
Nonetheless, "that campaign did a whole lot of good for her, outside of a pure fee".
"She launched her album, she got back on the market. There were other less tangible benefits it would have had for her."
Allen later told music website Popjustice she had ploughed the John Lewis money into the video for Hard Out Here.
Touring
"The one part of the music industry that's really booming right now is ticket sales," says Miss Johnson.
"It's the one income that, if you're a good performer, you can guarantee."
Following the release of her album, Sheezus, Allen has a touring schedule that runs until November 2014 - but fans of the John Lewis advert are unlikely to be the pop star's main ticket-buyers.
And what about those Russian birthday parties?
"It can be a way to make a lot of money," Miss Johnson says. "Quite a lot of our artists are doing things like Bar-Mitzvahs, private parties and opening events.
"You can turn up with a minimal production, rock up and do your set. For my client base it's very lucrative."
So there is money to be made - but musicians can't rely on simply releasing an album any more.
According to Mr Basheer, "the real 'secret sauce' is the artist pushing themselves as a brand in their own right".
"Take Tinie Tempah, for example. He has an urban, cool brand and other brands want to be associated with him.
"The artist is creative by nature - but with the right team, they can turn that creativity into an entertainment business as well."
As for Allen, after paying taxes and fees to her team, it's possible that £8,000 is all that's left.
But the true figure remains Something Only She Knows.