Curious Incident screened in Antarctica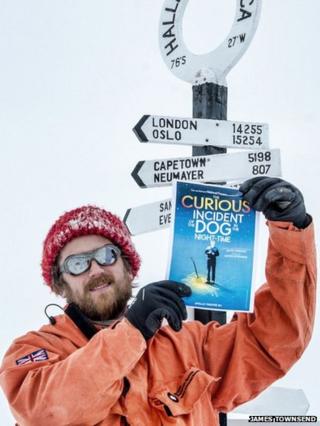 A hit West End play has made a unique debut - in the Antarctic.
The National Theatre revealed this week that it had sent a DVD of The Curious Incident of the Dog in the Night-Time to the British Antarctic Survey's Halley VI research base.
It took the unusual step after Dr James Townsend, a medical officer at the base, wrote and asked for permission to screen it for his colleagues.
It had been one of the last shows he had seen before he left the UK.
Dr Townsend, who arrived at the base on Christmas Day 2012, had the idea after he read about the play's success at the Olivier Awards in 2013.
"Having seen it shortly before I left the UK, I was trying to explain to the other guys here what it was like and why it was so good," he told the BBC News website.
"I failed miserably, I think, but had the notion that, if they saw it, it would all make sense, so contacted the NT Live team to see if it was possible to get a screening of it down here somehow.
"Obviously we were outside normal broadcast range but very kindly - and I think the only time they've done it - they offered to send a DVD copy of it down to me here to show on base."
A National Theatre spokesperson confirmed that National Theatre Live shows - which are screened in cinemas - were not released on DVD but an exception had been made in this case.
Dr Townsend, a regular theatre-goer when he lived in London, screened the DVD for his colleagues at the base earlier this year and plans to show it again during the Antarctic winter, which began this month.
"With the sun having set on 1 May, it's the last time for about 103 days that we'll see it above the horizon. We currently have a brief dusky period in the early afternoon, but will soon be in total darkness."
The research base, which sits on the Brunt Ice Shelf, gathers weather and climate data. It played a critical role in the research that identified the ozone "hole" in 1985.
Dr Townsend said that as well as watching TV and films as recreation, the crew at the base enjoyed cross-country skiing or kiting and visiting the nearby Emperor penguin colony.
He said: "Some of the best entertainment for me is simply going out on the dark, still, crisp winter days and just laying on my back, just looking up at the starriest of star-filled skies, listening to nothing but your breath crackle and freeze with every exhalation."
The Curious Incident of the Dog in the Night-Time, based on Mark Haddon's award-winning novel, screens again in UK cinemas on Thursday.
The play, which won seven Olivier awards, resumes its West End run at the Gielgud Theatre from 24 June.