Pastor jailed over faked Damien Hirst artworks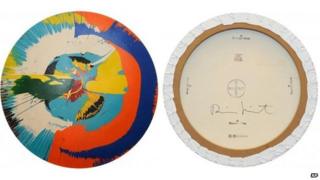 A US pastor has been jailed for six months after trying to sell fake Damien Hirst works to an undercover policeman.
Kevin Sutherland, of the Mosaic Miami Church in Florida, claimed to have five Hirsts, including a trademark spin painting and two of his spot paintings.
Prosecutors said Sotheby's had already told Sutherland one of the works could be a fake when he proposed his deal.
Sutherland said he was just a novice who got confusing messages about the authenticity of the paintings.
The 46-year-old plans to appeal the sentence of six months in jail and five years probation.
His lawyer, Sam Talkin, portrayed the crime as "an isolated detour from an otherwise law-abiding life".
But prosecutors argued Sutherland not only tried to rid himself of paintings he knew were forged, but tried to sell them at a profit.
He initially approached Sotheby's in December 2013 to inquire about selling a spin painting. By late January, Hirst's studio in London, Science Ltd, had determined the work was a forgery.
Sotheby's informed New York police who, on 29 January, 2014, emailed Sutherland and asked whether he had any Hirst artworks for sale.
He replied that he did, but would not know whether they were available for several weeks - apparently when he expected to hear back from Sotheby's.
The auction house then informed him on 31 January there had been a problem with the authentication. Within three hours, he emailed the detective offering him the five works for a total price of $185,000 (£109,844). He assured the officer they were genuine.
Sutherland was arrested on 7 February after meeting his contact at the Gramercy Park Hotel in New York. It was later found that the signature on some of the paintings did not match that of Hirst.
"This crime was motivated by greed," said Rachel Hochhauser, an assistant district attorney.
"He did more than try to pass on his financial loss. He tried to get a windfall from it."
Sutherland maintains that Sotheby's never clearly told him the artworks were counterfeit - and only informed him there was problem establishing the provenance.
He said he believed their authentication was guaranteed when he bought them from Vincent Lopreto, an admitted California art scammer who testified against him.
The case against Sutherland has grown from a larger investigation into Lopreto, who has admitted selling dozens of forgeries of Hirst's work on eBay.
Part of the Young British Artists movement in the 1990s, Hirst won the Turner Prize in 1995.
His spin and spot paintings are said to be a particular target for counterfeiters, as their simple concepts are relatively easy to reproduce. Indeed, the genuine articles are often created by the artist's army of assistants.