Vanessa Redgrave to star on screen in Call the Midwife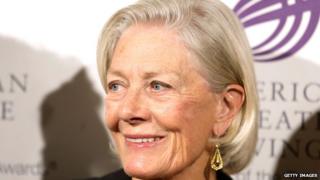 Vanessa Redgrave, who narrates BBC One series Call the Midwife, is to appear as a mature Jennifer Worth on screen for the first time.
Redgrave will star in this year's Christmas special, which has just begun filming along with an eight-episode fourth series due next year.
Set in London's East End, the latest series is set in 1960, as the area undergoes some big changes.
Redgrave will also continue as the off-camera narrator.
Screenwriter and executive producer Heidi Thomas used a trilogy of accounts by the late midwife and writer Jennifer Worth for the first two series.
Thomas received Worth's blessing to continue into series three and beyond, even though the memoirs had run out of material by the end of series two.
Lark Rise to Candleford actress Linda Bassett and Fresh Meat's Charlotte Ritchie are also joining the cast for the fourth series as Nurse Phyllis Crane and Nurse Barbara Gilbert respectively.
"We're delighted to be welcoming Vanessa Redgrave on screen, having hugely enjoyed her narration of the series to date," said Pippa Harris, executive producer of Neal Street Productions, which makes the series.
Actress Jessica Raine - who played the young Jennifer Worth - left at the end of series three.
The show has been a huge success for BBC One since launching in 2012, winning two Bafta Craft awards and the TV and Radio Industries Club drama programme of the year.