Missing Malaysian plane film planned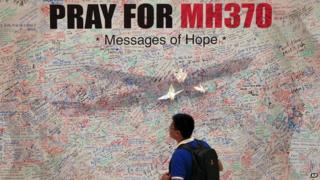 Indian film director Rupesh Paul has revealed he is making a film about missing Malaysia Airlines Flight MH370.
Speaking at the Cannes film festival, Paul told the Hollywood Reporter the drama - titled Vanishing Act - "will not affect any passengers' families".
The search is continuing for the Boeing 777 plane, which disappeared on 8 March with 239 people on board.
The film is expected to be ready for an autumn release date. Paul insisted he was not exploiting the ongoing search.
"The controversy will help indirectly, but we are not cashing in on the flight," he said.
The director added there had been a lot of interest in the film, particularly from Asian markets.
Paul is in Cannes to promote several of his films including Kamasutra 3D and The Monologues Of A Sex Maniac.
Never one to shy away from controversy, his first movie was titled The Temptations Between My Legs.
With much of the global film industry in Cannes this weekend, many other films have been announced and secured funding or distribution deals.
Trade website Variety has reported that Martin Scorsese, Steven Spielberg, Wes Anderson and David Fincher had all agreed to appear in an Alfred Hitchcock documentary.
The film, directed by Kent Jones, is based on the recordings that led to Francois Truffaut's 1966 book, Cinema According to Hitchcock, which many filmmakers describe as the bible of cinema.
It is due to be released in spring 2015.
Elsewhere, Adrien Brody was announced as the star of Lee Tamahori's revenge film Emperor.
Brody, who won an Oscar for The Pianist, will play Charles V, the 16th century Holy Roman Emperor.
"I have long admired Lee's work and a true fan since he blew me away with Once Were Warriors," Brody told Screen Daily.
Screen Daily also reported that a documentary based on the life of Iggy Pop had secured backing.
Production had already begun on the film, directed by Jim Jarmusch, which features interviews with the Stooges frontman.
The as yet untitled documentary is now being supported by Fernando Sulichin's New Element Global and UK company Independent, which is launching the project in Cannes.
"The combination of one of the greatest independent filmmakers and one of the most explosive, dangerous bands of all time is going to be a real treat," said the Independent's Andrew Orr.