Bafta TV awards: the view backstage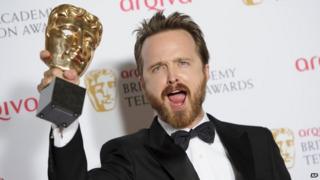 Broadchurch was the night's biggest winner at the Bafta TV Awards, but plenty more had reason to celebrate. Here is a taste of what went on backstage at London's Theatre Royal Drury Lane:
As award shows go, this one delivered its fair share of drama.
US drug series Breaking Bad became the first online-only show in the UK to win a TV Bafta.
Olivia Colman followed her double win last year by scooping the leading actress prize for Broadchurch.
And the IT Crowd proved that geeks can be cool with comedy acting wins for its stars Katherine Parkinson and Richard Ayoade.
The first winner of the night was Ant and Dec's Saturday Night Takeaway. The Geordie duo returned to the stage towards the end of the night when they won best entertainment performance for the same show.
Speaking backstage about their long TV partnership, Declan Donnelly said: "It's not like work for us. We live a couple of doors away from each other, we drive into work together, even on our days off we play golf together.
"It's like a dream. I get to go to work everyday with my best mate."
The mini-series award went to BBC Three zombie drama In The Flesh, which stars Luke Newberry - a best actor nominee - as a teenager with Partially Deceased Syndrome.
BBC Three's Him and Her: The Wedding was named best sitcom - making it two wins for the TV channel that is being axed to become an exclusively online outlet, accessible via the BBC iPlayer.
In The Flesh director Jonny Campbell noted that online-only shows like House of Cards and Breaking Bad didn't "look like their budgets were cut to go online".
Asked about the BBC Three closure, Kenton Allen, the executive producer of Him and Her, said: "I think winning Baftas in amongst all this competition from terrestrial channels might make some people think again, but I doubt whether it will have an impact on the decision."
The BBC won four awards in total.
As well as those two wins for BBC Three, Sarah Lancashire beat co-star Nicola Walker to win best supporting actress for BBC One's Last Tango in Halifax, while the public-voted Radio Times audience award went to Doctor Who's 50th anniversary episode Day of the Doctor.
Backstage, an emotional Lancashire said she had made a "biggest faux pas ever" by forgetting to thank Tango writer Sally Wainwright, whom she praised as "an extraordinary talent".
Channel 4 and ITV took home eight awards each.
Channel 4 had gone to the Bafta ceremony with a total of 27 nominations - the most of any single channel this year. BBC One and BBC Two had 17 apiece, while ITV had 12.
Sky, meanwhile, converted all of its three nominations into wins. David Attenborough's Natural History Museum Alive 3D won specialist factual; The Ashes 2013 - 1st Test, Day 5 took home the sport award; and A League of Their Own won best comedy entertainment programme.
Coronation Street's cancer plotline involving Hayley Cropper helped the long-running show win the soap award.
Actress Julie Hesmondhalgh, who played Hayley, said: "Walking around in the street, people felt the need to talk to us about it."
More than 10 million viewers tuned in to watch her character take her own life to end the pain of terminal cancer in a controversial plot in January.
"I thought people weren't going to be able to handle it. But it seemed that a lot of people got a lot of solace... seeing it reflected in this way."
Breaking Bad, shown exclusively online in the UK on Netflix, won the international award after a change in the rules allowed shows screened online to be eligible.
It beat Danish political drama Borgen, French supernatural chiller The Returned and Netflix stablemate House of Cards.
The show, about a terminally ill chemistry teacher who turns drug lord, came to an end last year.
"I do believe it's one of the greatest TV shows ever made," said Breaking Bad star Aaron Paul who was there to pick up the Bafta.
So if those were the winners, who missed out?
The Great British Bake Off - which had twice won the features category - failed to make it a hat-trick when it was beaten by ITV's Long Lost Family, presented by Davina McCall and Nicky Campbell.
And there was no joy for Dominic West or Helena Bonham Carter, stars of BBC Four biopic Burton and Taylor, who were up for the leading actor and actress prizes.
The best actor prize instead went to Southcliffe's Sean Harris who praised his drama teacher for inspiring him to become an actor.
"I could have ended up in a chicken factory," he elaborated backstage.
The reality show win for Channel 4's Gogglebox - which features people watching TV shows in their living rooms - could throw up an unusual scenario later this week.
Friday's edition is set to feature the televised Bafta awards ceremony, which means the TV watchers will be commenting on their own show for the first time.
"It'll be a bit weird, a bit eating itself" said executive producer Tania Alexander. "But it'll be interesting to see what we get."
Who won what?
Actress - Olivia Colman
Actor - Sean Harris
Female comedy performance - Katherine Parkinson
Male comedy performance - Richard Ayoade
Supporting actress - Sarah Lancashire
Supporting actor - David Bradley
Drama - Broadchurch
Entertainment show - Ant and Dec's Saturday Night Takeaway
Entertainment performance - Ant and Dec's Saturday Night Takeaway
News coverage - ITV News at Ten: Woolwich attacks
Current affairs - Syria: Across the Lines (Dispatches)
Sitcom - Him & Her: The Wedding
Audience award - Doctor Who: Day of the Doctor