Gerard Depardieu: Strauss-Kahn story 'like a tragedy'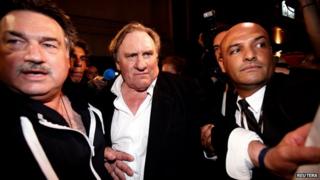 Actor Gerard Depardieu has likened the story of Dominique Strauss-Kahn to a Shakespearean tragedy after the premiere of a new film inspired by the French politician's fall from grace.
"It's about power and sex and money," he told reporters after a screening of Welcome to New York at the Cannes Film Festival.
"You have all these incredible elements of the great tragedies that we know from the stage."
Abel Ferrara's controversial film tells of a powerful French banker who is seen sexually assaulting a maid in a New York hotel room.
Familiar subject
Mr Strauss-Kahn gave up his role as head of the International Monetary Fund in 2011 after being accused of a similar sex attack.
Charges were eventually dropped and Mr Strauss-Kahn subsequently reached a settlement out of court with the maid, Nafissatou Diallo.
Depardieu, whose character is named George Devereaux in the film, acknowledged Welcome to New York was based on "a subject everybody knew about from the media".
Not like him
"The image of this man was that he was brilliant," the 65-year-old said on Saturday. "He could have been president."
However, the actor said he did not base his performance on Mr Strauss-Kahn himself and that "there was no identification to speak of".
"The fun of it was having him in the back of my mind all the time," he said. "The whole point was absolutely not to be like him or look like him."
British actress Jacqueline Bisset plays Simone, the wife of Depardieu's banker, a character who bears similarities to Strauss-Kahn's estranged wife Anne Sinclair.
"I felt this story was a universal story," said the 69-year-old, who reportedly replaced French star Isabelle Adjani early in production.
"I had so much to work with as a woman and I had tremendous empathy for Gerard's character."
Impulses and passions
According to Depardieu, his character has a "sickness" that brings out the "monster" inside him.
"I never questioned the morality of my character," he went on. "This man was not like me at all, but I do understand impulses and passions."
Welcome to New York begins with a series of graphic sex scenes in which Depardieu's character is shown consorting with prostitutes in hotel suites in Washington DC and New York.
He is later seen being arrested, detained and subjected to a strip search, little of which is left to the imagination.
Flashbacks shown subsequently show Devereaux seducing a young law student in Paris and sexually assaulting a resisting female journalist.
Ferrara, the US director best known for 1992's The Bad Lieutenant, defended the graphic nature of such scenes, saying it was "not a choice" on his part.
Heightened poetry
"These are the places, these are the events," he said. "We're not questioning the events.
"How violent is it? That's a question for him [Mr Strauss-Kahn], not for me."
The film, he went on, was "a cross between documentary and a kind of heightened poetry" that gave the viewer a "fly on the wall" perspective.
Depardieu himself said he had "hated" the scenes in which he is violent towards women and that the part had been more "tiring" than Cyrano de Bergerac - the role for which he was Oscar nominated in 1991.
Welcome to New York was not selected by festival organisers to be part of this year's official line-up.
Uproarious portrayal
Instead of releasing the film theatrically in France, its producers have made it available via video on demand. In other territories, the UK among them, it will be shown in cinemas.
Reviews of the film have so far been generous, with Variety's critic calling it "a sure-fire scandal starter" boasting a "remarkable" performance from Depardieu.
The Hollywood Reporter said it gave "a racy and at times uproarious portrayal" of well-documented events, though it described the film's two-hour running time as "taxing".
Welcome to New York begins with a lengthy on-screen disclaimer that says it is "inspired by a court case" but is otherwise "entirely fictional".