Flaming Lips to re-record Sgt Pepper with Miley Cyrus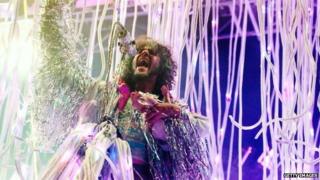 US rockers The Flaming Lips are to release their own version the Beatles' Sgt Pepper album in October
The track-for-track tribute will be named With A Little Help From My Fwends, frontman Wayne Coyne told Rolling Stone magazine.
It will feature collaborations with singers such as Miley Cyrus and Moby.
A download of the band's version of Lucy In The Sky with Diamonds, with Cyrus on vocals, will be available with pre-orders of the album from 18 May.
The band recently performed the track with Cyrus on her Bangerz tour.
The musicians became friends towards the end of last year, recording what Flaming Lips' Wayne Coyne called "completely weird" versions of Lucy In The Sky with Diamonds and A Day in the Life.
The album will also feature contributions from Flaming Lips side project Electric Wurms, and other musicians.
"It's really just a lot of great friends of mine who are all contributing," Coyne told Rolling Stone.
"Sometimes it's two groups doing a song; sometimes it's one. And it's not always the Flaming Lips and someone; sometimes it's just other groups. But I think all that's gonna be great."
"People are like, 'Why do you do Beatles songs?' and I'm like, 'Because people love them.' I think it'll generate a lot of interest."
Flaming Lips are known for their outlandish musical experiments.
In 2009, they made a similar tribute to Pink Floyd's Dark Side of the Moon, with friends and collaborators re-recording tracks from the cult 1970s album.
In 2011, they released a number of tracks embedded on a memory stick encased in jelly.
Proceeds from the Beatles tribute album will go to citizens of the Flaming Lips' hometown - Oklahoma City - who are unable to look after their pets, by providing veterinary care.