Spandau bring 'emotional' film to Cannes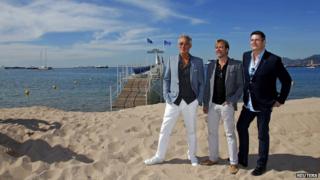 They were the good-looking New Romantics of British pop who seduced the world with such classic chart-toppers as True and Gold.
But their short-lived '80s heyday was followed by an acrimonious disintegration and a bitter battle in the law courts over royalties.
Now reconciled with one another and back on the road, Spandau Ballet know what is like to live on, with and through the music world's barricades.
It is this experience that informs Soul Boys of the Western World, a feature-length documentary that is screening at this year's Cannes Film Festival ahead of a UK release in October.
"We could have sugar-coated the whole thing and made it all lovely and wonderful, but that wouldn't have been real," lead singer Tony Hadley tells the BBC News website.
"We were five young guys who wanted to take over the world, and we had such a fantastic time.
"How do you go from 'I love you so much' to 'I can't stand being in the same room as you'?"
According to bass player turned-EastEnders-star Martin Kemp, though, "it was the right time" to make the film.
"And the great thing is it's not just about Spandau," says saxophonist Steve Norman, who calls George Hencken's documentary "a nice snapshot of pop culture throughout the 1980s".
That element is aided by the wealth of archive footage featured in the film, much of it shot by the band themselves.
"A big part of every band now is that everything is on camera," explains Kemp, who joined Spandau at the behest of older brother Gary. "But when we started out, it was sort of secretive.
"The first wages I ever got was 60 quid, which I went out and bought a Super 8 camera with.
"Gary said we wouldn't have enough material but we did - 400 hours of the stuff."
Rather than use a traditional talking head format, Hencken recorded the band's five members on tape in interviews conducted separately.
"The break-up and court case was difficult for them to talk about, and the way we did the interviews helped," she explains.
"I was surprised at how fresh the wounds were. Tony said it was sometimes a bit like doing therapy."
"It wasn't really a couch but it certainly felt like it," says Norman. "It was quite shocking when we saw it, but you've got to let it go."
"We all had to tell George our story, from the birth of the band to the end to the rebirth if you like, and the stuff that went on in between," nods Hadley.
Yet as well as the more painful aspects of their past, the film also addresses lighter subjects - among them Spandau's rivalry with Duran Duran, their main chart competitors.
The competition between the groups reached a tipping point of sorts in 1984, when they were pitted against each other on an edition of BBC TV's Pop Quiz that Duran ended up winning.
"They cheated!" jokes Norman now, though it is clear from the film how much the defeat mattered at the time.
"Were we big rivals? Obviously," says Martin Kemp, who, like his sibling, went on to carve a successful post-music career as a film and TV actor.
"When they were breaking America, I was really jealous. But the flip-side to that was we had Europe. We ended up splitting the world up between us."
"The press love to talk up the rivalry between bands - the Beatles versus the [Rolling] Stones, Blur versus Oasis, us and Duran," says Hadley.
"But musicians love to hang out together. So when you get bands together, it's 'Hello mate, how are you?'"
Knee problems saw Hadley appear in Cannes on crutches, while the jet-black locks Kemp sported as EastEnders' Steve Owen have now been supplanted by a silvery grey mane.
Yet that will not stop them taking to the stage on Friday for an acoustic version of three of their hits. (Gary Kemp will not be with them due to stage commitments in London.)
Of the film itself, its director expresses the hope it will tell "a story people can relate to, rather than it being just a fan film.
"It's a story of friendship, broken dreams and redemption - one you can relate to even if you've never heard of Spandau Ballet."