Elizabeth Hurley plays British Queen in new US drama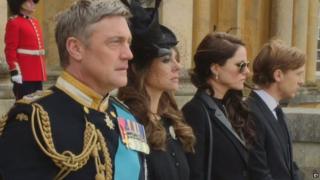 The first footage of Elizabeth Hurley playing a fictional British Queen have been released by US cable network E!.
They come in a trailer for a new drama, The Royals, from One Tree Hill creator Mark Schwahn.
Hurley plays Queen Helena, a monarch who will do anything to protect the image of her family.
In contrast to the strait-laced Downton Abbey, the loud, brash trailer sees royals swigging from wine bottles and dancing on tables.
"I'm just a bitch with money and power," says one, "but I do make it look good".
"In case you have forgotten, we are not a normal family," Hurley's character observes.
The drama - which aims to capitalise on the US obsession with the British Royal Family - has the tagline "anarchy in the monarchy".
William Moseley, Vincent Regan, Tom Austen, Alexandra Park, Ukweli Roach, Jake Maskall and Oliver Milburn will also star in the hour-long drama - which promises to match the debauched antics of One Tree Hill's messy teenage love triangle.
The first ever drama commission from the E! network, it is due to premiere in 2015.
In the meantime, US viewers will be given another dose of fake royalty in the reality show I Wanna Marry Harry.
Commissioned by the Fox network, it will transport 12 women to a British estate to compete for the attentions of a Prince Harry lookalike.
The show is due to premiere next week.