Shakespeare complete sonnets to get star readings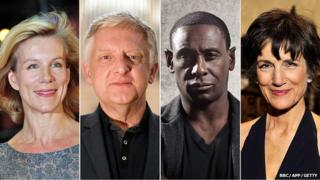 Actors Juliet Stevenson, Simon Russell Beale, David Harewood and Dame Harriet Walter are to take part in a three-hour reading of Shakespeare's 154 sonnets.
They will be joined by stars including Maureen Beattie, Deborah Findlay and Oliver Ford Davies at the Southbank Centre's Royal Festival Hall in London.
The event will mark celebrations for Shakespeare's 450th birthday and form part of the venue's Festival of Love.
The readings will be split into two sessions and take place on 1 June.
Shakespeare's sonnets are 14-line love poems and contain famous lines such as "Shall I compare thee to a summer's day?" They were published in 1609.