Glenn Close returns to Broadway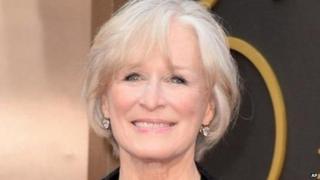 Glenn Close is returning to Broadway for the first time in 20 years.
Close will appear in a limited 18-week run of Edward Albee's A Delicate Balance, opposite John Lithgow.
The Damages actress last appeared on Broadway in musical Sunset Boulevard in 1994 - as ageing star Norma Desmond - winning a Tony for her portrayal.
The actress won two previous Tonys for her roles in 1992's Death and the Maiden and The Real Thing (1984). A Delicate Balance opens in November.
Alcoholic sister
The play sees 67-year-old Close and Lithgow, 68, as a married couple coping with the return of their 36-year-old daughter after her fourth marriage break-up, alongside a visit from Close's alcoholic sister and two family friends.
British actress Lindsay Duncan, 63, a double Tony-winner for Private Lives and Les Liaisons Dangereuses, will appear as Close's sister; Martha Plimpton co-stars as the wayward daughter.
Pam McKinnon, who won a Tony for last year's revival of Albee's hit play Who's Afraid of Virginia Woolf?, will direct.
A Delicate Balance - for which Albee won a Pulitzer Prize - had its Broadway premiere in 1966. A revival in 1996 picked up three Tonys.
Close, who has six Oscar nominations to her name, joins A-list stars such as Hugh Jackman, Ewan MacGregor and Bradley Cooper who are all set to appear on Broadway in the forthcoming season.