Matthew McConaughey talks up next film in Cannes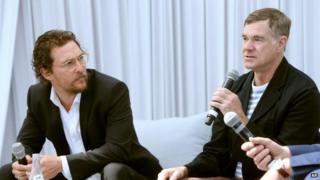 Oscar-winner Matthew McConaughey has dropped into the Cannes Film Festival to promote his next film Sea of Trees, with Milk director Gus Van Sant.
The Dallas Buyers Club star said the script, which sees him play an American who travels to Japan to kill himself, gave him "the chills".
"It was the best script I have read in the last five years," the actor said.
Godzilla's Ken Watanabe will co-star, while Naomi Watts is in talks to play McConaughey's estranged wife.
"It's like [reading] a whole bunch of haikus back-to-back," McConaughey said.
"I got the chills, which doesn't usually happen."
Shooting is set to begin over the summer, with a budget for the film set at $25m.
Drone thriller
It has also been revealed that fellow Oscar winner Colin Firth will co-produce and star in drone thriller Eye in the Sky, opposite Dame Helen Mirren.
Dame Helen will star as a military intelligence officer in charge of a secret drone operation, alongside Breaking Bad's Aaron Paul as a drone pilot.
Firth's Raindog Films will produce alongside Entertainment One. South Africa's Gavin Hood - whose films include Wolverine and Ender's Game -will direct.
Meanwhile, Mel Gibson's latest thriller Blood Father has been picked up at the festival.
Worldview Finance will co-finance the production - directed by Assault on Precinct 13's Jean-Francois Richet - with European distributor Wild Bunch.
Gibson stars as a former criminal who must protect his teenage daughter from drug dealers. Filming has already begun in New Mexico.
The 58-year-old actor is in town promoting his latest film - action sequel Expendables 3 - which is released this summer.
It has also been announced that Halle Berry will star in thriller Kidnap, playing a mother determined to rescue her kidnapped son.
Berry, who appears in the latest X-Men franchise, will be directed by Pusher's Luis Prieto.
Pitching to buyers at the festival, producers Bill Johnson and Jim Seibel cited the "incredible talent of Halle Berry and Luis Prieto on a project that is sure to appeal to audiences worldwide".
Berry's more recent films include thriller The Call, with Abigail Breslin, and the critically-mauled Movie 43.