Play School's Humpty goes under hammer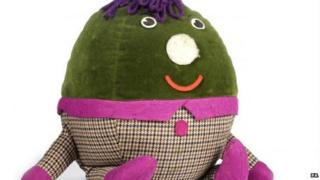 One of three original Humpty toys created for the long-running BBC children's programme Play School is to be sold at auction.
The egg-shaped cuddly toy is expected to fetch between £800 and £1,200 when he goes under the hammer at Bonhams in Oxford next week.
Humpty appeared in almost every episode of the pre-school series, which ran for more than 24 years, from 1964-1988.
Presenters on the show included Johnny Ball, Brian Cant and Floella Benjamin.
Humpty was one of a family of toys regularly appearing on the show including Big Ted, Little Ted, Hamble and Jemima.
With his distinctive tweed suit and purple wool hair, Humpty was so popular he reportedly received fan mail.
The sale item is missing one button and has a small tear to left side of collar.
"This iconic and much loved character was an important member of the Play School cast," said Bonhams expert Rachel Gotch.
The series celebrates its 50th anniversary this year, with a recent reunion in London attended by many of the show's 104 presenters.