Rajars reveal record audience figures for Radio 2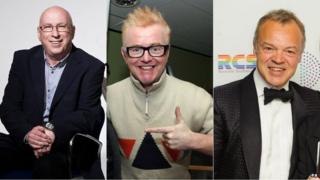 BBC Radio 2 has once again reached a record audience over the past three months, according to new figures.
The network drew a weekly audience of 15.57m, with Chris Evans Breakfast Show pulling in a record audience of 9.83 million listeners every week.
BBC Radio's Helen Boaden said Radio 2 "never fails to surprise and amaze with the diversity of its output".
Earlier this week the station was named UK station of the year at the Radio Academy Awards.
Boaden, director of BBC radio, praised the station's "unrivalled breadth of music alongside news, current affairs, documentaries, religion, arts, comedy and readings".
"It also boasts many of the finest broadcasters in the country and the continuing success of the Chris Evans Breakfast Show is a tribute to all those who work so hard to make the show utterly unique," she said.
Radio 2 DJs Ken Bruce, Graham Norton and Steve Wright also drew record audience numbers.
In comparison, BBC Radio 1 drew a weekly audience of 10.5m listeners - down 440,000 on the preceding quarter, but up year on year.
Breakfast DJ Nick Grimshaw won praise for gaining 130,000 under-24-year-olds while shedding 526,000 over-25s over the past three months.
"I was asked to build a younger audience for Radio 1 and regenerate the brand," said Radio 1 controller Ben Cooper.
"These figures show we're doing exactly that."
The DJ has lost lost more than a million of his older listeners since taking over from Chris Moyles.
Radio 4's reach fell slightly from its record high of 11.21m last quarter to 10.95m, while sister station Radio 5 live slipped 1.8% to 6.2 million.
Radio 3 has a new audience of 2.09 million, up by 100,000 on the previous quarter.
Among the BBC's digital-only stations, Radio 1Xtra revealed a year-on-year audience gain of just over 10% to 1.1m, while Radio 6 Music was up by 6.3%, reaching 1.6m listeners.
Listeners of Asian Network have dropped by more than 13% across the year, to 478,000.