Museums at Night festival set to open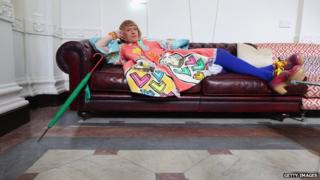 Museums, galleries and historic spaces are preparing to host almost 700 night-time events over the next three days.
The annual Museums at Night festival gives visitors free access to museums from sunset onwards while special one-off events are planned around the UK.
It gets under way later on Thursday and runs until Saturday.
Events include an appearance at Nottinghamshire allotments by celebrity photographer Rankin and artist Grayson Perry playing hide and seek in York.
Museums At Night organiser Nick Stockman, of Culture24, said: "The idea is to get a totally different experience.
"The sun's down, the lights are up and there's a different atmosphere.
"The institutions maybe take a few risks and put things on that they wouldn't normally put on. They may invite musicians and artists and poets to come and interpret their collections in a different way."
This year's highlights include:
Grayson Perry is taking his teddy bear Alan Measles for a night of bear-themed activities and a question-and-answer session at Yorkshire Museum in York.
US photographer Spencer Tunick, known for taking photographs of naked crowds, will ask people to shed their clothes on Folkestone beach on Saturday.
Rankin will photograph allotment holders at the UK's oldest and largest allotments in Nottingham on Friday before exhibiting the results later that night.
Artist Jessica Voorsanger will lead a fancy dress "sci-fi spectacular" in Scunthorpe, including a Men in Black parade through the town and Stormtrooper life drawing.
The band Public Service Broadcasting will play three gigs at RAF Museum in Hendon, north London, using archive public information films and propaganda material in their sets.
The English National Ballet will perform the World War I-inspired Second Breath at the Imperial War Museum North in Manchester on Saturday.
Second Breath choreographer Russell Maliphant, who took inspiration from the museum's archive, said: "Being there with all the paraphernalia around war and the memories will be a very interesting time for us all.
"Anything that opens museums up to a wider audience is great. Museums are a rich thing for our society and the more we can make them accessible to different groups of people at different times is great."
Elsewhere, BBC arts editor Will Gompertz will host a special one-hour programme on BBC Two on Saturday from the National Museum of Scotland in Edinburgh.
The festival, which is now in its sixth year, will also be covered on the BBC Arts website.
Stockman said his aim was for 2,500 museums to take part by 2020.