US television shows get the chop in new season launch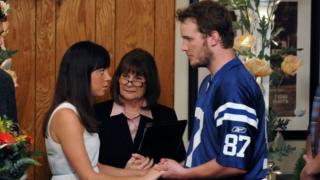 Parks and Recreation is amongst a number of shows earmarked for the chop as US networks outline plans for the new season and beyond.
NBC said at the weekend the forthcoming seventh series will be its last but did give a starting date for the show.
Drama Parenthood, also on NBC, has been given its marching orders when its sixth series comes to an end.
The news came as part of the US networks' competitive yearly programme launch.
Each new announcement is of big importance to the channel-saturated US TV industry as the main networks not only vie for audience attention but also that of potential programme buyers from domestic cable channels.
International buyers are also in the networks' sights, particularly when it comes to new shows.
"People have more control now than they ever had before and they're using it," said Cindy McKenzie of PricewaterhouseCoopers' US Entertainment, Media and Communications practice.
"And we're still as an industry making decisions based on rules that aren't in play. The market is still there but it's not growing."
Strength to strength
Parks and Recreation is a critically-acclaimed comedy show about a small-town parks department and local government, starring Golden Globes co-host Amy Poehler.
The show won programme of the year at the AFI award in 2012 and has been nominated for best comedy at the Golden Globes.
It is NBC's longest-running comedy and is shown in the UK on BBC Four.
Other US to UK TV exports that will to come to an end following their forthcoming series include comedies Cougar Town and Men at Work, both on US cable channel TBS.
But the channel will be taking on American Dad from Fox - which has also cancelled its previous big hitter The X Factor USA.
Elsewhere, shows that continue to go from strength to strength include legal drama The Good Wife, currently enjoying its fifth series and being renewed by CBS for a sixth.
Crime drama The Mentalist has also been recommissioned for a seventh run.
Comedy series Modern Family, shown on ABC, will be back for a sixth series and medical drama Grey's Anatomy will be carrying on for an 11th run.
Below is a list of just some of the shows to be ending or renewed. The list is not exhaustive.
ABC - shows to be cancelled:
The Neighbours (currently in series two)
Suburgatory (currently in series three)
ABC - shows to be renewed
Nashville - renewed for third series
Modern Family - renewed for sixth series
Dancing With the Stars - renewed for 19th series
Grey's Anatomy - renewed for 11th series
Fox - shows to be cancelled
The X Factor USA (currently in series three)
Glee - will end after sixth series
Fox - shows to be renewed
American Idol - renewed for 14th series
American Dad - moving to TBS for series 11
Bones - renewed for 10th series
Family Guy - renewed for series 13
Hell's Kitchen - renewed for series 13
New Girl - renewed for fourth series
The Simpsons - renewed for 26th series
NBC - shows to be cancelled
Parenthood - to end after sixth series
Parks and Recreation - to end after seventh series
Camp (after one series)
Crisis (after one series)
The Michael J Fox Show (after one series)
NBC - shows to be renewed
Celebrity Apprentice - renewed for 14th series
Hannibal - renewed for third series
The Voice - renewed for seventh series
About a Boy - renewed for second series
CBS - shows to be cancelled (all were new series)
Bad Teacher
The Crazy Ones
Friends With Better Lives
Hostages
CBS - shows to renewed
The Big Bang Theory - renewed for eighth series
CSI - renewed for a 15th series
The Good Wife - renewed for a sixth series
Hawaii Five-0 - renewed for fifth series
The Mentalist - renewed for seventh series
NCIS - renewed for a 12th series
NCIS: LA - renewed for a sixth series
Two and a Half Men - renewed for a 12th series
Undercover Boss - renewed for a sixth series