Neighbors unseats Spider-Man sequel at US box office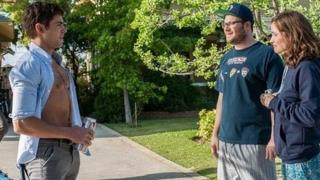 Seth Rogen and Zac Efron's comedy film Neighbors has unseated Spider-Man at the top of the US box office.
The film, which is being released as Bad Neighbours in the UK, sold $51m (£30.2m) of tickets over the weekend.
The Amazing Spider-Man 2, starring British actor Andrew Garfield, took $37m (£22m), according to estimates.
Cameron Diaz comedy The Other Woman held onto third place with Heaven Is for Real and Captain America: The Winter Soldier completing the top five.
Neighbors sees Rogen and Rose Byrne as new parents who find themselves engaged in a battle of wits when a rowdy fraternity house, led by a frequently shirtless Efron, moves in next door.
Paul Dergarabedian, senior media analyst for box-office tracker Rentrak said: "You don't expect a comedy to be able to unseat an epic blockbuster, but historically it happens more than you think."
The sequel to The Amazing Spider-Man, which sees Garfield reprise his role as the web-slinging superhero, has made more than $550m (£326m) in worldwide ticket sales so far.
Christian drama Heaven Is for Real has been the surprise hit of the year so far. Telling the story of a four-year-old who says he experienced Heaven during emergency surgery, it has earned more than $75m (£44m) on an estimated budget of just $12m (£7m).