BBC Trust 'hasn't worked' says former editor Roger Mosey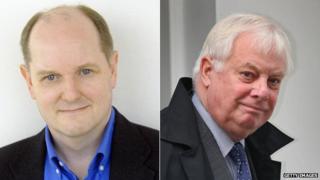 Former BBC editorial director Roger Mosey has called on the next chairman of the BBC Trust to "abolish the role".
Writing in a letter published in the London Evening Standard, Mr Mosey said the Trust "simply hasn't worked as a regulatory body".
Mr Mosey, who masterminded the BBC's Olympic coverage in 2012, stepped down from the corporation last year.
In response, a BBC Trust spokeswoman said it had "an important role... safeguarding the BBC's independence".
Earlier this week, current BBC Trust chairman Lord Patten stepped down with immediate effect on health grounds.
Lord Patten - who has been in the role since 2011 - said "it would not be fair to the BBC and those it serves not to be able to give that commitment which the role demands".
'Splendid isolation'
Mr Mosey - whose jobs at the BBC included head of TV news and controller of BBC Radio 5 Live before leaving the organisation at the end of August 2013 to become master of Selwyn College, Cambridge - argued the chairman "should be unmistakably within the BBC, not sitting in splendid isolation in a different building".
"He or she should be alongside the director-general when it matters, fighting for the BBC's independence and not playing politics."
"Much of the red-tape associated with the Trust can be scrapped, and its perfectly possible for content regulation to be done by Ofcom or the like," Mr Mosey wrote.
"After the failures of recent years, the best chair would be someone who promises to abolish the role as it currently exists, saving us millions into the bargain."
Responding to the criticisms, a BBC Trust spokeswoman said: "Roger Mosey is entitled to his opinion, but under the Charter the Trust has an important role in representing the interests of licence fee payers and safeguarding the BBC's independence."