Alan Bennett's Lady in the Van getting big screen treatment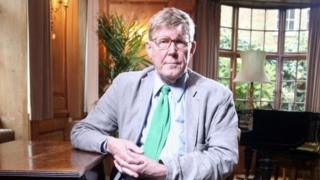 Alan Bennett's play The Lady in the Van, based on his memoir, is being made into a film starring Dame Maggie Smith.
Dame Maggie will star as Miss Shepherd, the homeless lady who lived in a battered car on Bennett's driveway for 15 years.
Sir Nicholas Hytner will direct, having helmed the first stage production in 1999, which also starred Dame Maggie.
Playwright and author Bennett celebrates his 80th birthday on Friday.
He has a long history of working with Sir Nicholas, who steered his play The History Boys from the theatre to the big screen in 2006.
Set in a boys' grammar school, the film featured the original cast from the National Theatre production, including the late Richard Griffiths, James Corden and Dominic Cooper.
Bennett's play The Madness of King George III also benefitted from the partnership.
The 1994 film version, which Sir Nicholas directed, was nominated for four Oscars and gained Nigel Hawthorne a Bafta award for best actor.
The Lady in the Van details the strange relationship between Bennett and Miss Shepherd, a woman who had taken to living in her car opposite his house.
Bennett eventually allowed her to park her vehicle in his drive, sparking an often-strained relationship which ended when she died in 1989.
It is being produced by BBC Films, which has also commissioned City of Tiny Lights, starring Riz Ahmed of Four Lions and The Reluctant Fundamentalist fame.
Based on the novel by Patrick Neate, it centres on a private eye who takes on the case of a missing woman.
Head of BBC Films, Christine Langan, called it "a truly idiosyncratic take on the private eye genre that rather brilliantly deals with what it is to be British today".
BBC director general Tony Hall added: "I'm a huge fan of what Christine and the team are doing."
"I really think it's so important not just for the BBC but for film in Britain. We're taking £11m of licence fee payers money and creating somewhere around £65m worth of revenues to do films that otherwise would not get made.
"That's what the BBC should be about: British talent, British writers, British directors - we should be about the very best of British talent and giving voice to that talent."