Opera star Sir John Tomlinson awarded medal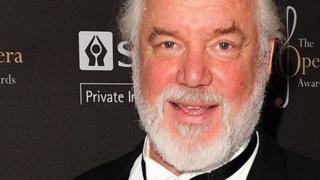 British opera star Sir John Tomlinson has been awarded the Royal Philharmonic Society (RPS) Gold Medal - one of classical music's highest honours.
The RPS described Sir John - who sings regularly with The Royal Opera and English National Opera - as a "great British Wagnerian".
The medal will be presented to the bass singer at this year's RPS music awards on 13 May.
It will be broadcast on BBC Radio 3 on 18 May at 22:00 BST.
In announcing Sir John's award, the RPS praised him as an "international treasure" whose "magnificent bass voice has thrilled audiences around the world in opera and in concert for more than 40 years".
Sir John studied at the Royal Manchester College of Music and appeared at the Bayreuth Festival for 18 consecutive seasons from 1988.
In 1993, he won a Grammy Award for Bartok's Cantata Profana and in February 2007 was honoured at the Olivier Awards in recognition of his career.
The RPS medal was created in 1870 to commemorate the centenary of Beethoven's birth and celebrates the close relationship between the composer and the society - which commissioned Beethoven's 9th Symphony.
Since its creation, recipients have included Brahms (1877), Delius and Elgar (1925), Richard Strauss (1936) and Stravinsky (1954).
More recent recipients include conductors Sir Simon Rattle and Daniel Barenboim, and opera singers Placido Domingo and Dame Janet Baker.