Kiefer Sutherland 'worried' about damaging the legacy of 24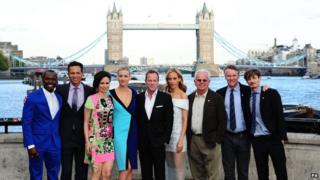 The last time we saw Jack Bauer he was a wanted man, a fugitive from justice with both the American and Russian governments baying for his blood. Four years later, Jack is back - and this time, he's in London.
Actor Kiefer Sutherland admits when he first got the call suggesting a new series of 24, he was nervous about reviving the no-nonsense character.
"The last thing you want to do is damage the legacy of a show you've put to bed," he says at the London launch of 24: Live Another Day on Tuesday.
"And we had put this to bed for a reason: Howard Gordon, our lead writer, was tired. He had written 196 episodes - the equivalent of 100 movies - in an eight-year period.
"That gave me pause for thought. But now we're almost finished I'm so glad, and arguably we've made the best season ever."
24 was groundbreaking television when it began in 2001, relaying the against-the-clock drama of a counter-terrorist operation in real time.
It was also perhaps the first show to spark so-called "binge viewing" of DVD box-sets, thanks in part to the cliff-hangers that ended every episode.
The format kept viewers gripped, though it did have its limitations.
"In season two, Jack is stuck on a plane coming back from Central America to the US," Sutherland explains.
"The flight was two hours, and it was the most boring two hours of 24 we've had because we were in real time.
"The answer to that was to crash the plane in the middle of the flight, because it wasn't working."
To overcome these issues, the new series - which takes place in London - compresses a whole day into just 12 episodes. Each instalment, though, is still played out in real time.
Speaking at the UK launch, Sutherland says the change has afforded the writers more flexibility.
"If I need to get somewhere, I can get on the train or plane at the end of the episode and we can speed the time up to the next episode and carry on in real time from there."
The ninth season sees Bauer in London, coincidentally at a time when the US president (played by William Devane) is meeting the British prime minister (Stephen Fry) amidst public outcry over a proposed new military base to deploy drones.
It opens with the former counter-terrorist agent reuniting with Chloe O'Brian, his surly former colleague.
While Bauer is now on the run, wanted for the crimes he committed four years ago, Chloe has also become an Edward Snowden-style enemy of the state - wanted by the CIA for treason after leaking thousands of classified documents online.
To emphasise just how rogue she has become, Chloe has a new jagged haircut and a tattooed look seemingly inspired by Lisbeth Salander from The Girl with the Dragon Tattoo.
"She's very troubled and hanging onto a thread," actress Mary Lynn Rajskub says of her character.
"She's become very anti-government and suffered personal tragedy, so that has affected her look."
Despite his long history with the character, Sutherland says it took him a while to settle back into playing Bauer and that he experienced a nervous first three days of production.
Indeed, it was not until a moment while filming a scene with Rajskub for the second episode that he finally felt comfortable in the agent's shoes.
"Once we were on set there was a definite familiarity there," the actress says.
"The history between us is pretty unspoken, but the cool thing about this [series] is there are so many new elements."
Those elements include CIA agents Kate Morgan (Yvonne Strahovski) and Erik Ritter (Gbenga Akinnagbe), along with Steve Navarro (Benjamin Bratt), head of CIA operations.
John Boyega, who was recently cast in Star Wars: Episode VII, also features as a military computer technician who pilots US drones.
The appeal of reviving 24 almost certainly lies in halving its length and making it a so-called "limited event series".
"There is a comfort in only doing 12 episodes," admits Jon Cassar, who directed a large proportion of the previous eight instalments and has returned to executive produce and helm half of Live Another Day.
"It gives the writers a chance to make good episodes. People forget 24 episodes was absolutely a marathon - most [other network] shows are 22.
"For a seven-year period we had three weeks off from one series to the next. That's why everyone was really tired, because we never had time to recuperate."
With the series debuting in the US with a solid eight million viewers on the Fox network, TV bosses will inevitably be mulling over whether to bring the series back on a more permanent basis.
Cassar says the decision will also be down to fellow producer Gordon - who also developed US terrorism drama Homeland - and Sutherland himself.
"It's hard to say never anymore, because we said never four years ago when we left the show and we really didn't think it would come back," he says.
"Is there a possibility? Absolutely. Are they going to write some kind of ending [this series] that leads to that? I would probably think yes."
24: Live Another Day is on Sky One on Wednesdays.