Composer and broadcaster Antony Hopkins dies aged 93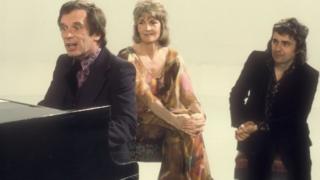 The composer and broadcaster Antony Hopkins, who presented the BBC Radio 3 programme Talking About Music for more than 36 years, has died aged 93.
Mr Hopkins, who was appointed a CBE in 1976 for services to music, was also a conductor and an accomplished pianist.
He regularly displayed his musical prowess during his radio shows when he was also joined by high-profile guests.
Among his most well-known music were compositions for the films Billy Budd, Pickwick Papers and Cast a Dark Shadow.
Roger Wright, controller of BBC Radio 3, said he was "saddened" by news of Hopkins' death.
"I was one of the many listeners who benefitted from his groundbreaking radio programmes, Talking About Music.
"By his authority (worn lightly) and his warm tone, his influence was immense and it was a privilege to have been able to hear him.
"He was even kind enough to take time to respond to this teenager's letter commenting on one of his talks about a Mozart Piano Concerto. I shall always remember that generosity of spirit and desire to spread the word about the joy and magic of classical music."
Hopkins was born Antony Reynolds in Edmonton, north London, but following the death of his father when he was four, he was adopted by Major Tom Hopkins, the head teacher of Berkhamsted School, and his wife Lillian.
He went on to be educated at Berkhamsted and later at the Royal College of Music, where he won two of the college's top awards - the Chappell Gold Medal for piano and the Cobbett Prize for composition. That set him up for a career of music-making, across radio, theatre and cinema.
He presented Radio 3's Talking About Music - in which he analysed a work that was due to be broadcast on the station during the week - from the 1950s until 1992.
He also composed numerous scores for the BBC radio programmes - two of which won prestigious Prix Italia awards for the best radio shows in Europe.
Meanwhile, his work was being heard by audiences as operas and productions at Stratford and the West End.
He also became known for his books of musical analysis, which included Talking About Symphonies, and wrote an autobiography called Beating Time.