Sir Jonathan Miller painting wins Portrait Prize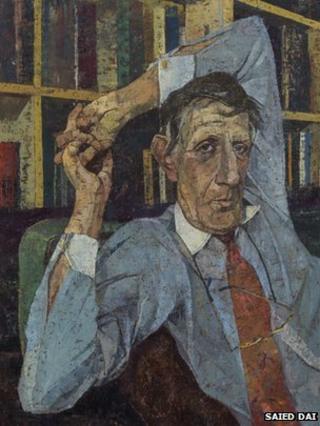 A painting of theatre director Sir Jonathan Miller has won an award from the Royal Society of Portrait Painters.
Saied Dai's work received the Changing Faces prize - which entails a £2,000 commission to paint a portrait of a person with a facial disfigurement.
Dai's piece is on display at the Royal Society of Portrait Painters' annual exhibition at London's Mall Galleries.
This year's show, which celebrates the diversity of the genre, features more than 200 portraits.
"Changing Faces is all about communication and Saied Dai's portrait of Jonathan Miller, conveys all the hallmarks of the confident communicator," said Alison Rich, of disfigurement charity Changing Faces, who chose the winning portrait.
"We respond to his energy, the directness of his gaze and the attitude of openness and self-confidence."
The other prize winners included Jennifer McRae, who was awarded the £10,000 Ondaatje Prize for Portraiture for her work, titled Conversations with Duncan.
Flora Watson also won the Laszlo Foundation Awards for artists under the age of 35.
Portraits included in the society's 2014 exhibition feature a number of well-known figures, such as former Prime Minister Tony Blair and politicians Lord Kinnock and Sir Menzies Campbell.
The world of sport is represented by athlete Sir Roger Bannister and race horse trainer Sir Mark Prescott.
Episodes actress Tamsin Greig also features, along with opera singer Jonathan Viera and conductor Stephen Barlow.