Ofcom examines Jeremy Clarkson's Top Gear Myanmar joke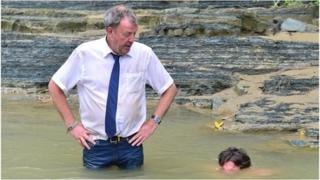 Media regulator Ofcom is investigating whether a recent episode of Top Gear, which included a controversial joke about Asian people, broke its rules.
Host Jeremy Clarkson used a derogatory term during the Burma Special, which was broadcast on BBC Two in March.
The show's producer later apologised, but Ofcom is now looking into whether it breached its "content standards".
The news comes after Clarkson was criticised for mumbling a racist word during an outtake from another episode.
The Ofcom investigation relates to a special programme in which the show's hosts built a bridge over the River Kwai, on the border of Myanmar (also known as Burma) and Thailand.
Surveying the structure as a local man walked across it, Clarkson remarked: "That is a proud moment. But there's a slope on it."
Co-star Richard Hammond replied: "You're right. It's definitely higher on that side."
'Institutionally racist'
Equal Justice, a law firm specialising in discrimination cases, accused Clarkson of "clear gross misconduct" and said his comments made the BBC appear "institutionally racist".
After receiving complaints, Top Gear producer Andy Wilman said it was "a light-hearted wordplay joke referencing both the build quality of the bridge and the local Asian man who was crossing it".
He continued: "We were not aware at the time, and it has subsequently been brought to our attention, that the word 'slope' is considered by some to be offensive and although it might not be widely recognised in the UK, we appreciate that it can be considered offensive to some here and overseas, for example in Australia and the USA.
"If we had known that at the time we would not have broadcast the word in this context and regret any offence caused."
If Ofcom decides its code has been breached "seriously, deliberately, repeatedly, or recklessly", it can impose sanctions ranging from the broadcast of a correction or statement to a fine of up to £250,000.
The Ofcom investigation comes a week after the BBC faced calls to fire Clarkson after he mumbled an offensive part of the nursery rhyme Eeny, Meeny, Miny, Moe in a clip that was not broadcast.
The star said the corporation told him he would be sacked if he makes "one more offensive remark, anywhere, at any time".