Bryan Singer named in new sex abuse claim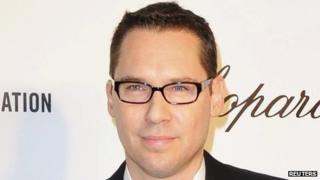 A second man has accused X-Men director Bryan Singer and theatre producer Gary Goddard of sexual assault.
An anonymous British man has filed a claim in California, alleging the pair sexually assaulted him when he was a minor, The Hollywood Reporter wrote.
The claim was filed by the same lawyer who filed sex abuse claims on behalf of Michael Egan last month against Mr Singer, Mr Goddard and two others.
Both Mr Goddard and Mr Singer deny the new claims and the previous claims.
In the latest claim, the man alleges that Mr Goddard contacted him in 2003 when he was 14 via social media, which led to nude webcam sessions when he was 15.
He said the pair had sex when he was 16.
He also alleges that he had sex with Mr Singer at a Superman after-party in London when the plaintiff was 17. The plaintiff also accuses Mr Singer of attempting to rape him.
The age of consent in the UK is 16.
But the claim argues that the California age of consent, 18, should apply because Mr Singer and Mr Goddard allegedly planned their abuse of the teenager while in the US state.
Mr Singer's lawyer, Marty Singer, who is not related, described the latest allegations as "totally untrue".
Mr Goddard's lawyer, Alan Grodin, said in a statement: "It is a shame that the specious claim made by (Jeff) Herman (the plaintiff's lawyer) in the Egan case has resulted in this new claim that we note is over 10 years old. For now we will say the claims are denied and Gary will vigorously defend."
The latest claim was filed by Mr Herman in a federal court in Los Angeles and was first reported by The Daily Beast.
Mr Singer, 48, has directed three instalments of the X-Men franchise, including the upcoming X-Men: Days of Future Past - due to be released next month - and another instalment to be released in 2016.
His other credits include The Usual Suspects, Superman Returns and last year's Jack the Giant Slayer.
Mr Goddard has produced several shows on and off Broadway, including the Tony award-winning 2009 revival of Hair.