Lisa Smosarski: Top 10 tips for being a magazine editor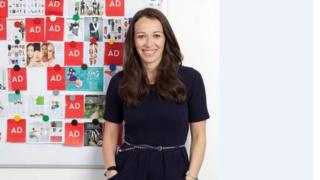 Lisa Smosarski is the editor of Stylist. She started her career as a junior writer on Bliss magazine when she was 21. By the time she was 25 she was the editor of Smash Hits.
She later became the editor of More magazine, before deciding to leave and join the team at Stylist, where she has been the editor since the magazine's launch in 2009.
Here are her top 10 tips to making it in the highly competitive field of magazine publishing.
1. Find yourself a role model
I knew from a stupidly early age that I wanted to go into journalism and I think Press Gang played quite a big part in that. I had this massive aspiration to be just like the empowered female editor one day.
When I got into the industry, role models became even more important to be honest. My editor at New Woman was just brilliant and really creative.
There were so many things about her that I wanted to replicate myself. I think having someone close to you who can inspire you is really important.
2. Persevere, even when things are difficult
After school I went out of my way to get a place at the London College of Printing. I was so happy when I got in, but I really wasn't the best student.
Even though I knew what I wanted to do, it didn't actually come very naturally to me, I had to work really hard at it.
I remember thinking everything was really difficult and wondering if I'd made a mistake, but I just persevered. In my final year I went for a job on Bliss magazine as a junior writer.
It was the first job I'd gone for, and I got it. I was completely gobsmacked, it just accelerated my whole career and the decisions that I made thereafter.
3. Be ambitious, put yourself out there and don't be afraid to take risks
I made a lot of moves very quickly between the age of 21 and 25. I got some great opportunities and I just went for it and threw myself in there.
I think blind ambition is really important. You have got to believe it, if you don't believe it then nothing is going to happen. You've just got to put yourself out there and take a risk.
You learn from all of your mistakes as you go along and if you don't go for it, you'll never get it and you'll never know, so a little bit of risk taking is good I think.
4. Apply for jobs you want, even if you think you won't get them
I was the editor of Smash Hits by the time I was 25, just through naive ambition probably. I remember thinking I'll just give it a go.
I'd gone for editor jobs before and not got them, but I had learned so much from going through the interview process and I got to meet lots of people.
I never really expected to get the jobs I was applying for, I knew I was shooting very high. There were a couple of jobs I didn't get where I was genuinely gutted. When that happens you just have to tell yourself, next time.
Whenever opportunities you want come up, you have to grab them with both hands and go for it.
5. Take an occasional leap of faith
Stylist was a brilliant opportunity for me because it was a launch. It was something I could really own and I could see the potential.
Sometimes you just have to take a leap of faith. Because it was a launch I suppose there was the possibility that it could fail and I would have been out of work very quickly if it hadn't been a success.
I wanted to be a part of a magazine that spoke to women intelligently and I believed it was going to work. So no, I had no qualms about working on a free magazine and I certainly don't now, we've had the best five years.
6. Be nice
Everyone believes the Devil Wears Prada myth and everyone thinks you have to be fierce to get ahead. It is simply not true.
Something I always say to people is be nice. Be kind. It is just so important. You can give feedback, which is tough, without necessarily making it personal or aggressive.
The best editors are genuinely sincere people who are passionate about what they do. It should be a comfortable environment, we're asking people to work very hard, and work long hours all the time and I don't think anyone is going to want to do that if they are miserable.
7. Get your hands dirty and lead by example
I think you have to lead by example, you have to get your hands dirty. You need to be very inclusive and you need to be leading the brainstorms with lots of ideas yourself.
I sit with the team and we're all involved with every part of the process and I think being at the heart of the magazine is really important.
I'm also incredibly clear about what I want or where I think we need to be. It's a busy, busy desk, there is nowhere to hide so everyone needs to pull their weight and they do.
I don't switch off. I'm terrible at it. I would love to be able to, but I find it really hard. In pretty much all aspects of my life, I'm very organised, very decisive, and very excitable!
8. Know your reader
Knowing your reader is so important, you have to know her better than she knows herself. It always amazes me when people say, 'How do you know your reader?' The answer is that you talk to them!
We will never be our readers because we are lucky enough to go to film premieres and fashion shows or be invited to lunch with Victoria Beckham. I've found myself in Downing Street chatting to David Cameron and it's quite unreal, my Nana is always so incredibly proud.
It's really important to remind yourself that it isn't the real world. We all go home to somewhere that doesn't look like the world that we are pretending to live in but of course magazines are about aspirations so it is good to reflect some of that.
9. Know your competition
Knowing your competition is essential. Circulation wise we are doing incredibly well, we're the biggest weekly in our demographic.
Our view is that we are competing for people's time and attention, they have choices, people can choose not to pick something up, even if it's free. We speak to women on their commute and there are lots of things vying for their time, mobile phones being the paramount one vying for people's attention.
So it's important to remember that you are not just competing for advertising, celebrity exclusives and content, you are mostly competing for your readers' engagement.
We all do that every day, actively walk away from things we don't want to collect and Stylist always has to be at the top of its game so it doesn't become the thing that is a burden rather than a joy.
Like any business, you need to understand the playing field that you're in. And the world is changing, so we have to look at different platforms, it isn't just about print anymore.
10. Be decisive and don't be scared to admit when you're wrong
We brainstorm all the time. I think you learn over time to have confidence in your decisions but you will make mistakes, you won't always get it right, you just have to trust your gut instinct.
Don't be scared of making the wrong decision, it is better to make one than not and don't be scared or intimidated by other people being brilliant, you don't have all the best ideas, it took me such a long time to learn this, but you don't have to do it all yourself.
Don't be scared to admit you're wrong. My mum always joked as a child that nothing was ever my fault, it took me a while to learn that fallibility is not a failing, it's just part of being human, learning a lesson and moving on. I love my job. Working on a magazine like this, you really can make a difference to people's lives in so many ways and that's the best thing about it!