Bob Hoskins: Stars pay tribute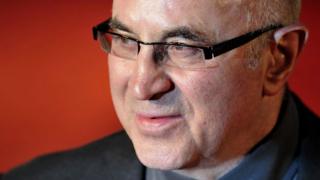 British actor Bob Hoskins, best known for roles in The Long Good Friday and Who Framed Roger Rabbit, has died of pneumonia at the age of 71.
Stars and former co-workers have paid tribute to the Bafta-winning actor.
DAME HELEN MIRREN - co-star in The Long Good Friday
Bob was a great actor and an even greater man. Funny, loyal, instinctive, hard-working, with that inimitable energy that seemed like a spectacular firework rocket just as it takes off.
When I worked with him on his iconic film The Long Good Friday, he was supportive and unegotistic. He was never sexist, when many around at that time were. I had the honour of watching the creation of one of the most memorable characters of British film.
I watched his brilliant Bosola in The Duchess Of Malfi and then had the greatest of pleasures in playing again opposite him in the film Last Orders.
Playing again with him was like playing a duet with a brother I had grown up with, which professionally I had.
I personally will miss him very much, London will miss one of her best and most loving sons, and Britain will miss a man to be proud of.
NEIL JORDAN - director of Mona Lisa
God bless you Bob. You were a force of nature, one those rare actors who changes the nature of the game forever. I had the good fortune to create the role of George for you in Mona Lisa, and nobody else could have delivered that combination of inarticulate rage and vulnerability. My deepest sympathies to Linda and your family.
TIMOTHY SPALL - co-star in TV series The Street
Bob Hoskins was a wonderful actor and an equally wonderful human being. He had the rare mixture of what it takes to be a great actor, a mixture of sophistication and innocence. He was able to make people laugh and cry. He was an adored man and a deeply respected and admired actor.
It is a great loss to the British acting profession, and I personally will mourn him with great affection. I wish his family and all his loved ones well.
ROBERT ZEMECKIS - director of Who Framed Roger Rabbit
I was saddened to learn of the passing of Bob Hoskins. He was a beloved actor who brought a lot of enjoyment to film audiences worldwide.
As for his performance in Roger Rabbit, for all the special effects and technical wizardry, it was Bob's honesty and the truth of his performance that made the animated characters believable - and that was a testament to his real talent.
KATHLEEN TURNER - uncredited voice of Jessica Rabbit
I am so shocked - so sad to hear of Bob's death. I have always thought him brilliant - when I first saw him in Pennies from Heaven. I hoped to work with him someday. I am proud to have been part of his body of work - even if only as a cartoon.
CATHY TYSON - co-star in Mona Lisa
He put me at ease. He taught me how to act. I felt comfortable in his presence - and able to cry for the first time as an actor.
The generosity of both him and Michael Caine was fantastic - the reverence for what was happening. He was immersed in his character, but he was a very kind to me.
I remember we did a take on the Brighton Pier, it's that scene where I've got the star-spangled glasses on and I say: "Haven't you ever loved someone?" And he says: "All the time." And we were both crying.
But when we first started doing it, I wasn't crying. I remember he said to me: "Now try that again, you could do that again, couldn't you?" It wasn't the director, Neil Jordan, who said that. Bob did.
I looked up to him. I wanted to do well for him - so I thought, "OK yes, I trust him" and I went to a different depth.
From that day onwards, I didn't look back.
ROSA HOSKINS - Daughter
"I loved him to the ends of the earth and he loved me back just the same," wrote Rosa on her website.
She then listed some of her father's words of wisdom - including "don't worry about other people's opinions" and "appreciate beauty".
"These are the lessons he taught me," she said.
"I will keep them close to my heart and remind myself of them whenever I stumble or falter.
"This isn't general wisdom, rather advice that he tailor made just for me.
"I love you Dad."
ALAN YENTOB - commissioned Pennies from Heaven
It's very sad. We will really miss him. What stands out in Bob's most memorable performances as an actor is authenticity, that irresistible combination of defiance and vulnerability that became his trademark . The Long Good Friday, Mona Lisa, Pennies From Heaven, that's his legacy.
SHANE MEADOWS - director, Twenty Four Seven and A Room for Romeo Brass
Bob Hoskins is the most generous actor I have worked with. He not only took a huge chance on me when he agreed to star in my first feature film, he taught me so much about the business, how to survive it and how to stay true to yourself.
When we travelled to New York together back in the late 90s to promote Twenty Four Seven, the film company had put Bob in first class and me in with the chickens.
Bob refused to go unless they upgraded me to first or downgraded him to economy. They upgraded me, thank goodness, but knowing he would have forgone the champers and flambe steak to sit in twerp class with me says it all, really.
He was a true gentleman. RIP Bob.
SUSAN JAMSON - Chickenshed Theatre Company
It is with great sadness that we hear that our very dear friend, supporter and patron Bob Hoskins has died today.
Bob and his family have supported Chickenshed for many years. He empathised and understood our very being. He loved spending time with our members and nothing was ever too much trouble for him, be it helping us to pitch for funding, speaking to the press so eloquently on our behalf, or even singing on our Celebrity Album - he was up for anything!
Bob said that he "stumbled" into acting when he went to meet a friend auditioning at a local theatre and he landed the lead role. He also says that he "stumbled" on Chickenshed when he came to see The Tempest - and he thought it was great!
We are thrilled and honoured that he found Chickenshed. He has given us sound advice, love and kindness for many years.
JAN DUNN - director of low-budget 2008 film Ruby Blue
There's only a handful of British A-lister actors that low-budget, new independent film-makers could approach - with their fingers crossed - in the hope they would say "yes" and Bob was one of them.
What I particularly remember fondly is he called himself "one-take Bob" - but I only had two weeks to shoot my film, so he met his match in me!
He was absolutely fantastic. On every level, there was a warmth, a sensitivity, an intelligence. He was very creative and very funny, as well.
One lovely thing I remember about him is we couldn't quite afford a Winnebago, and his agent said we'd need to get him something nice to relax in. I felt she was absolutely right, so I went knocking on doors in Broadstairs and found someone who had a camper van.
So we got Carol, the camper van owner, to come to the shoot - and I think Bob went in there once because he just loved hanging out with the crew and hanging out with the children that were in the film. He was playing games with the kids all the time, and teaching them silly songs. And rude songs - even when their mums were there.
He will be lost and grieved by many, many people. He could make anybody feel at his ease. He was literally an everyman.
ILM - Visual effects company on Who Framed Roger Rabbit
"Eddie, you were one of a kind. A friend to us all."
KATE HARDIE - actress in Mona Lisa
Hugely sad. Can't think of many actors who explored masculinity with such tenderness.
I was 17 when I did Mona Lisa. Was v vulnerable due to subject. Bob Hoskins stayed on set whenever I was working even if he was wrapped. [He] was a total gentleman with brilliant morals who took great care of me when I was young and exploitable.
Mona Lisa is a deeply moral film with NO female nudity from the actresses involved and Bob was a huge influence on its heart and decency.
After Mona Lisa I was offered a Vogue fashion shoot. Got sacked when I arrived cause I was only 5'4"! Acting opposite Bob Hoskins - deceptive!
[He] was also a director and when I expressed an interest in my 20s - got me in to sit next to him whilst he edited. Generous man!
SALLY HAWKINS - co-star in Made in Dagenham
I am devastated to hear the news.
He was a beautiful soul and this world is less without him in it.
His heart and his gift will be greatly missed.
One of the highlights of my career was working with him.
My thoughts are with his family during this time.
MICHAEL CAINE - friend and actor
He was one of the nicest and best actors I have ever worked with.
JAMES CORDEN - actor
I did my first ever film with Bob Hoskins. He was, and always will be, a huge inspiration to me and all the boys in Twenty Four Seven. Rest in peace, Bob.
LIAM CUNNINGHAM - actor
I filmed The Street with Bob Hoskins in 2010. Had copious amounts of wine with the man. It was a joy to work with him.
SAMUEL L JACKSON - actor
Truly saddened by the passing of Bob Hoskins! A truly gigantic talent and a Gentleman.
ALFRED MOLINA - actor
One of the great ones. True gentleman, gifted actor, you will be terribly missed.
MARTIN KEMP - actor and musician
Long Good Friday one of the best movies ever made! You will be missed!
MICHAEL ROSEN - author and former Children's Laureate
Loved Bob Hoskins. First saw him in Ken Campbell's Roadshow in about 1970. Performed brilliantly my story The Bakerloo Flea on TV.