Opera star Montserrat Caballe charged over tax evasion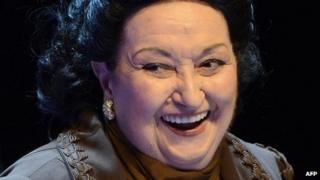 Spanish opera singer Montserrat Caballe has been charged with tax evasion for failing to declare 500,000 euros (£410,500) of income.
Prosecutors have accused the 81-year-old of funnelling earnings from a series of concerts in 2010.
It is claimed she opened a bank account in Andorra to avoid paying tax.
Caballe came to worldwide prominence when she recorded the hit Barcelona with Freddie Mercury, which went on to be the theme of the 1992 Olympic Games.
The singer gave a series of lucrative European concerts in 2010, performing in countries including Spain, Germany, Switzerland, Italy and Russia which - along with a number of recordings - prosecutors claim netted her more than two million euros (£1.64m) that tax year.
The soprano claims she was a resident in neighbouring Andorra at the time but it is alleged she was actually living in Spain "with the sole objective of not paying taxes to the Spanish State".
According to court documents, Caballe allegedly signed all her concert contracts through a dummy company registered in Andorra and deposited the income in an Andorran bank account with the aim of "ensuring the Treasury did not have knowledge of her income and her true residency in Spain".
The singer is due to appear in a Barcelona court on 9 May. She has yet to comment on the charges.
In a career spanning some 50 years, Caballe had stints with the Basel Opera and Bremen Opera before her international breakthrough in 1965 in Lucrezia Borgia at Carnegie Hall in New York.
She went on to perform with the Metropolitan Opera, San Francisco Opera and Vienna State Opera, appearing opposite the likes of Luciano Pavarotti and Placido Domingo.