Live TV subtitling is 'too slow', Ofcom says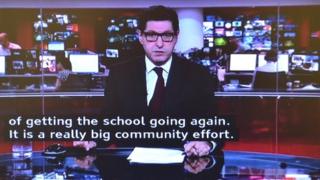 On-screen subtitling lags too far behind speech on live TV programmes, UK media watchdog Ofcom has said.
The average delay between speech being heard and the corresponding subtitles appearing on screen is 5.6 seconds, according to an Ofcom report.
That is almost double the recommended maximum of three seconds.
But accuracy and the number of words per minute were good, according to the first of four planned Ofcom reports into the quality of subtitling.
The regulator examined news bulletins, chat shows and entertainment programmes after receiving complaints from viewers.
Viewers said "poor latency" - or delays - was "one of the most frustrating aspects of live subtitling, often resulting in a disjointed viewing experience", according to Ofcom.
"Ofcom will ask broadcasters to consider how latency can be reduced and whether, for example, they can take advantage of any small delays in the transmission of live programmes to improve latency," it added.
'Lower quality'
However it noted that broadcasters were "strongly opposed" to broadcasting live programmes with a short delay, "citing the risk to viewer trust, the need for complex technical solutions, and competition from other media, amongst other reasons".
Ofcom also raised concerns that some pre-recorded programmes did not have subtitles added in advance, resulting in the same delays.
"Ofcom remains concerned that a significant number of pre-recorded programmes are provided to broadcasters too close to transmission to allow subtitles to be prepared in advance," a statement said.
"This results in lower quality subtitles for viewers."
The regulator added that it was "concerned that subtitling may not be treated in all cases as an integral part of the production process".
The three further reports will be published over the course of the next two years.
Charity Action on Hearing Loss said it was "disappointed, although not surprised" by the findings of Ofcom's report.
"Subtitling is one of the biggest issues that the public contact us about," Rob Burley, head of public affairs and campaigns said.
"There is no excuse for pre-recorded shows, like Top Gear, Later With Jools Holland and The Jeremy Kyle Show to use live subtitling when there is ample time for them to be subtitled in sync with speech.
"The inaccuracy of live subtitles creates a huge barrier preventing people with hearing loss from enjoying equal access to television programmes.
"Subtitling companies must work to improve their quality and only use live subtitling technology when absolutely necessary."