BBC beats ITV in latest breakfast TV battle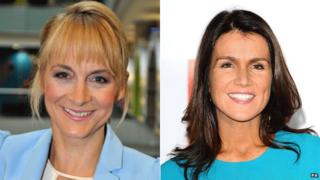 ITV's new breakfast show, Good Morning Britain, has lost out to BBC Breakfast, scoring half as many viewers as its rival on its opening day.
The first show, starring Susanna Reid, had an average audience of 800,000 viewers over two-and-a-half hours.
BBC Breakfast had almost double that figure, with an average of 1.5 million viewers tuning in.
Good Morning Britain's first day audience is, however, an improvement on its predecessor Daybreak.
Helen Warner, ITV's director of daytime, said she was pleased with the performance.
"The launch was a fantastic team effort, and we are focused on building a strong breakfast brand going forward."
Over the last year, Daybreak had struggled in the ratings against its BBC One rival, with an average audience of 590,000.
The five-minute peak audience on Monday for BBC Breakfast was 2.1 million, while Good Morning Britain's highest five-minute peak was 1.2 million.
Peak and average viewing figures - the usual measure of TV ratings - really only give a snapshot of the breakfast audience, given that most people often only tune in for a short period of time.
The more accurate "daily reach" figure adds up the total number of people watching at any time during the broadcast.
For BBC Breakfast, the figure is currently 6.8 million. On Daybreak, which ended last week, it was 2.3 million.
Good Morning Britain will be hoping to improve on that figure - but measurements are not yet available.
The new ITV show is hosted by four presenters, including Susanna Reid who left BBC Breakfast earlier this year for a rumoured £400,000 salary.
Her colleagues include former Sky presenters Ben Shephard, Sean Fletcher and Charlotte Hawkins.
The first edition ran fairly smoothly, although there was a slightly sticky moment when the weather presenter referred viewers to the Daybreak website during the 07:45 update.
Regular viewers on Twitter had mixed feelings, with one writing: "#Good Morning Britain looks like loose women crossed with Nintendo Wii's version of Sky Sports News."
But former BBC Three and BBC London television presenter, Matt Cooke tweeted: "Very slick, fresh US look for @GMB - seems to have far fewer ads than usual ITV morning shows. And @andipeters is back too - hurrah!"
Several commentators likened the look of the new programme to ABC's long-running breakfast show Good Morning America.
"Good Morning Amer... sorry, Britain! Yes, with its four-strong team of presenters - the women clad in primary colours - seated around a big glass desk, and a weather expert who gets to add her two cents to the chat, ITV's new breakfast news show owes a lot to its stateside counterpart," wrote Paul Jones in his Radio Times review.
The name Good Morning Britain was previously used by ITV from 1983 to 1992, and is chiefly associated with Anne Diamond and Nick Owen.
Louise Minchin, who has been a regular anchor on BBC Breakfast since 2006, has been the show alongside Bill Turnbull since Reid left.