BBC News 'can feel distant', says Trust report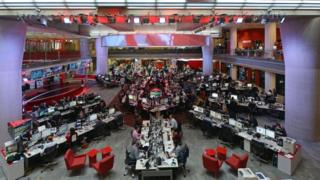 A review of the BBC's news output has found it to be "trusted and highly regarded by audiences" but suggests some viewers can find it "distant".
Conducted by the BBC Trust, the review also expresses concern that "younger audiences' use of broadcast news is continuing to decline".
It says "there is a risk that they may not turn to the BBC as they get older, as has traditionally been the case."
More than 9,000 people were consulted as part of the review.
The BBC's governing body looked at the performance of all of the corporation's UK network news and current affairs across TV, radio and online before drawing its conclusions.
The main points of the report are:
Almost 80% of UK adults consume some BBC network news output each week
The BBC is seen as a very high-quality news provider
Younger viewers are proving harder to reach
Some parts of the audience find the BBC "distant" both in tone and subject matter. Some want a broader agenda and a greater variety of tone, and more engaging storytelling
Audiences expect more from current affairs at the BBC. Many believe the quality of investigative journalism is higher on Channel 4
Current affairs programmes, such as Panorama, need to be "scheduled, promoted and signposted" in a way that "maximises potential impact"
The BBC needs to be responsive to change, especially new technology and new habits of consuming news
The report also found an appetite among some audiences for a wider international agenda and greater depth and coverage of lesser-known places
The director of BBC News and current affairs, James Harding, said at the BBC's News Festival on Tuesday: "We must ask ourselves, are we good enough?"
He praised the corporation's current affairs output, highlighting programmes including Monday's BBC One Panorama on Formula 1 boss Bernie Ecclestone and said there was "brilliant work in current affairs on BBC Three".
But he added that "we should expect more of ourselves (in current affairs)".
He also described Newsbeat, which caters for young adults, as "an extremely powerful and effective news organisation within the BBC".
"The thing that distinguishes the BBC... is we're here for all of us."
The report found that "audiences think the BBC does significantly better than other news providers in providing up-to-date news... giving in-depth coverage... and covering a wide range of stories".
It said that "four out of five UK adults watch, read or listen to BBC News each week, with BBC TV news alone watched by two-thirds of adults".
According to the review, however, some audiences feel BBC News is "distant" in its editorial agenda and tone and think it should do more to offer "fresh perspectives".
The Trust has set out "a number of actions" that include "making more use of regional and local reporters on national network news".
The BBC executive has also been instructed to make "further progress in creating a more diverse workforce both on and off air" and to take steps to "increase the impact" of its current affairs output on TV and radio.
"The challenges faced by BBC News in retaining its audiences and its reputation are by no means unique to the BBC," said Richard Ayre, BBC Trustee and former deputy chief executive of BBC News
"But the corporation's obligation to serve everyone means it must do better than other broadcasters.
'Trustworthy'
"Though news and current affairs are performing extremely well, the issues we've asked the BBC to address will help them to keep pace with changing audiences and unprecedented technological shifts.
"None of this is about radical or sudden changes in editorial direction, it's simply ensuring the BBC is fleet of foot in responding to the challenges ahead."
In its response to the report, the BBC said it was "delighted" that audiences "regard our journalism as very high quality... more trustworthy and better informed than any other provider".
"The key actions around audience consumption, diversity, current affairs and international reporting mirror areas which we have already identified as key priorities and have started taking steps to address."
Newsnight, Panorama and late night politics show This Week were among the programmes scrutinised, alongside the BBC's main daytime and evening news bulletins.
ANALYSIS - David Sillito, BBC media correspondent
This is a report that has some surprises.
The Jeremy Vine show is now the number one news show on radio, overtaking Radio 4's Today programme. BBC One's News at Six audience now beats the News at Ten. And the number of minutes of news the average BBC viewer watches has actually been going up. It's now around two-and-a-half hours a week.
However, consumption of BBC news by people under 35 has dropped. Some 78% of us watch BBC News, but only 56% watch more than 15 minutes a week. And the number of people accessing BBC news via their phone has gone from 3.2m in 2011 to 8.1m a week in 2013. This report provides a fascinating snapshot of a news revolution and a sharp divide between young and old.
The good news for the BBC comes from the demographic bulge, the baby boomers who are now in their 50s and 60s. These are the heavy consumers of news and they have got more time on their hands. I think the success of News at Six owes a great deal to being sandwiched between two very popular programmes Pointless and BBC regional news. These are the households in which the News Channel can become a companion, and TV consumption tops five hours a day.
The troubling statistics regard younger audiences. If you are under 45, online is now your main source of news and the landscape is changing rapidly. The BBC may be respected for accuracy and impartiality but speed, navigation and clever headline writing is what drives clicks. The big question is what happens to these people as they get older. Will they settle down to Pointless and the news habits of their parents, or remain less engaged with news?
And how far will the style of BBC news have to change if it wants to keep 78% of us watching, listening and reading?