LeBlanc, Greig and Mangan on getting giggles during Episodes
By Helen Bushby
BBC entertainment and arts reporter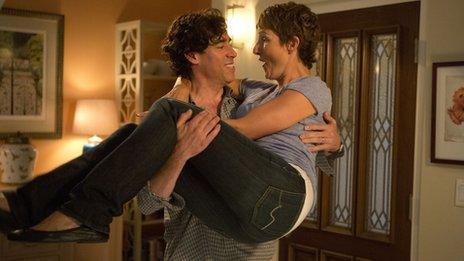 Keeping a straight face appears to be the biggest challenge facing Matt LeBlanc, Tamsin Greig and Stephen Mangan as they shoot their hit TV comedy Episodes.
They are all terrible gigglers - and Greig appears to be the worst culprit.
"I can't tell him now when things are making me laugh," says Greig of LeBlanc, "because he's really naughty with making it worse."
For her, acting out the script is a minefield of moments when she has to suck in her cheeks and think of England - anything not to laugh.
For the uninitiated, Episodes sees Greig and Mangan play the writers of a Bafta-winning British comedy which is disastrously remade for a US audience.
LeBlanc sends himself up as its unsuitable star.
With the show's third series in the can and a fourth starting filming in August, they can afford to feel pretty relaxed.
But when Episodes was announced in 2009, the focus was on LeBlanc, whose fame post-US sitcom Friends was huge.
Greig and Mangan were well-regarded theatre and TV stars in the UK but relative unknowns in the US.
With Friends spin-off Joey cancelled after two seasons, all eyes were on LeBlanc - could he manage another hit show?
Five years later, LeBlanc has a Golden Globe for Episodes and the show itself has two Globe and two Emmy nominations.
Any nerves Greig and Mangan may have had at working with LeBlanc are long gone. As they slap each other on the knee and finish each other's sentences, it's clear there is now a meeting of minds - and humour.
Greig says LeBlanc enjoys making her squirm when she can't keep a straight face: "There was a scene when he did this hand gesture [that made me laugh] and I thought 'I cannot mention this'.
"I couldn't stop looking at it, and he would do it more and more - so now I just stay quiet."
LeBlanc grins, saying even when he gets "the disapproving look" she then "overdoes it, overcompensates and I get it figured out.
"I have to work out what it is I'm doing, one small thing."
Mangan, who goes back years with Greig from their days on Channel 4 hospital comedy Green Wing, knows the score.
"I have to be serious to try and get her through it, if there's any hint of a smile on my face…" he says, as Greig adds: "Stephen has his serious face and there's one tiny, beautiful little dimple thing that just sort of hovers [when he finds something funny] and he has to stay really calm."
But beneath the humour, all three are aware that the key reason the show took off is the writing.
It was conceived by David Crane, who co-created Friends, and Crane's real-life partner Jeffrey Klarik, producer of the successful US sitcom Mad About You which starred Helen Hunt.
Having worked in TV for years they had no qualms in exposing what can go on behind the scenes of a TV network.
Mangan says: "They're writers on top of their game for years, writing about a subject they have a very interesting, complex relationship with - making television.
"They love it but they hate aspects of the industry over there and it's pouring out of them."
For Greig, the show's strength is in its "humanity, heart and humour" despite everyone being "trapped in this stupid age of obsession with celebrity".
LeBlanc adds that "people want to know what goes on behind the magician's curtain" of the entertainment industry.
"I think therein lies something intriguing, and the writers have done a great job in not letting people down once they take a look at it."
One of the strengths of the writing is its mix of "bizarre, awkward situations" with "emotional content", he says.
This is typified by a scene from the previous series where, having slept with Beverly [Greig] despite his close friendship with her husband Sean [Mangan], LeBlanc tries to make up for it by giving each of them a sports car with a giant bow tied around it.
This ham-fisted approach to life typifies LeBlanc's character in the show, which is full of digs at the shallow showbiz culture of LA.
Although the couple reconcile by the end of series two, things are far from straightforward in series three, which aired in the US in January.
The actors reveal there is a particularly cringeworthy scene in a sex therapist's office, in which Greig's inability to keep a poker face is tested to the limit.
It involves her speaking with a Yoda voice, but the rest of the scene is X-rated.
LeBlanc jokes that it "took 50 takes".
The show gets away with adult content and bad language because it is broadcast in the US on Showtime, a cable and satellite TV network which also screens shows such as Homeland and Dexter.
Greig says the writers chose it "so there was more artistic freedom and they would be trusted more with knowing what they were talking about".
"Networks are notorious for micro-managing their product and Showtime have been fantastic, as have the BBC."
In the UK, the series is aired post-watershed on BBC Two.
Despite the show's success, would LeBlanc consider a return visit to Friends, which first aired 20 years ago, for a reunion show? His former co-star Courteney Cox recently said it was "not going to happen".
LeBlanc agrees, saying: "That show was about a finite period of time in your life, after college when your friends are your support.
"That was what the magic of the show was, it was those characters in a room relying on each other, and not going past that - [afterwards] it's not the same environment. So I don't see it happening."
And as for the future of Episodes, LeBlanc says he "cherishes" his scenes with Greig and Mangan.
He's already put in his "request with the writers" that for season four they "keep the three of us in the same room, given the history we now have".
"It will go on as long as David and Jeffrey are interested in writing it," Greig adds. "And for as long as the BBC want to put it on - 20 years?!"
Season three of Episodes begins on BBC Two on 14 May.
Related Internet Links
The BBC is not responsible for the content of external sites.