Dad's Army film 'in the works'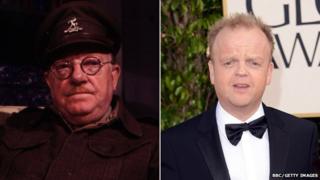 A big screen version of classic TV sitcom Dad's Army is to be made, according to reports.
The Sunday Times' arts editor Richard Brooks reported that actor Toby Jones would star as Captain Mainwaring and Bill Nighy would play Sergeant Wilson.
The original ran for nine series from 1968 to 1977 and is regarded as one of Britain's greatest TV comedies.
The show's co-writer Jimmy Perry told BBC 5 live the new film had "been in the air for a long time".
The comedy legend, now 90, said: "Up to now I haven't taken it too seriously.
"When I signed the contract to release the film rights, one provision was that I didn't have to write anything, I didn't have to do anything. I'm letting them get on with it."
The Sunday Times reported that the film would be directed by Oliver Parker, who made Johnny English Reborn, St Trinian's and Othello starring Sir Kenneth Branagh.
The script will be written by Hamish McColl, who wrote Johnny English Reborn and Mr Bean's Holiday, the paper said.
Producer Damian Jones was quoted as saying the "universal appeal" of Dad's Army had convinced him that a new film could work.
The series followed a squad of eager but incompetent townsfolk as they prepared to defend Britain in the face of a possible German invasion during World War 2. It came fourth in a BBC vote to find Britain's best sitcom in 2004.
Stuart Wright, chairman of the Dad's Army Museum in Thetford, Norfolk, where much of the series was shot, said: "We welcome anything which raises awareness of Dad's Army, and its Thetford links."
Mr Wright, who is also the town's mayor, added: "However we hope they do justice to what is a national institution, and that it will not be like some remakes which have not worked."